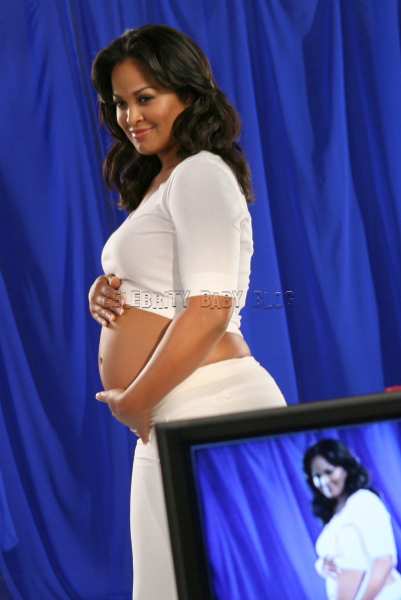 The Celebrity Baby Blog got a sneak peek as boxer and host Laila Ali unveiled her baby belly while shooting magazine and television spots for Palmer's Cocoa Butter Formula stretch mark products, including the Massage Cream for Stretch Marks, Massage Lotion for Stretch Marks and Tummy Butter. The advertising shoot took place in Brooklyn, NY, on Tuesday, June 10th, and the spots will air this fall, featuring Laila's personal experiences with Palmer's and the results she has seen throughout her pregnancy.
Laila said she has been using Palmer's Cocoa Butter products since she was a child and likened using them to physical fitness. She said, "Just as working out every day helps keep my body fit, using Palmer'sCocoa Butter Formula products on a daily basis ensures my skin stays intip-top shape, especially throughout my pregnancy."
The main ingredients of the products include cocoa butter, Vitamin E, collagen and elastin, to help prevent and reduce the appearance of stretch marks.
Laila, 30, expects her son — to be named Curtis Muhammad – the first week of September.
Photos by Diane Bondareff for Palmer's.
Click Continue Reading to see more photos from the shoot and Laila getting her hair and makeup done.