Ben Affleck says 'all the cliches are true' about parenthood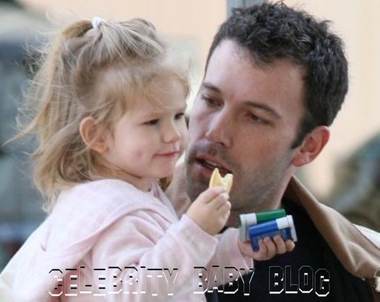 When it comes to fatherhood, Ben Affleck, 35, says he has the same fears as anyone else — fears that he's turning into his own father, or that his 2 ½-year-old daughter Violet Anne will inherit the less desirable parts of his personality that he wishes she wouldn't. While "we all like to see ourselves as good dads," Ben recently said, "the key is optimism."
Fortunately, it's easy to be optimistic while being a dad to Violet and a husband to Violet's mom, actress Jennifer Garner. Ben said the mother-daughter duo have only changed his life for the better.
I love being a father, it's wonderful. It's changed my life. All the clichés are true. My daughter Violet, who's two, is the most important person in my life. And Jen's great. I'm a lucky guy. I know my wife doesn't have much faith in me preparing my daughter's food properly when she's working, but I always surprise her by getting the job done.
Violet is the first child for the couple, who married in 2005.
Source: Sunday Mirror; Photo by Flynet.
Thanks to CBB reader Clandula.