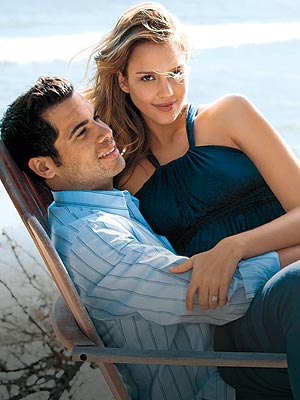 "Honor Marie – that's a cool name." That was Justin Timberlake's take on co-star Jessica Alba's new baby girl's name. At a press day for The Love Guru on Monday, June 9th Justin, Mike Myers and Romany Malco all congratulated their co-star on the arrival of her new daughter. Justin added,
She seems very patient, and I would assume that's what it takes to be a good mother, a good parent for that matter. I'm happy for them. It's beautiful.
Mike went on to say that he thinks the 27-year-old actress will "be a great mother. She's smart, she's talented and she's one of the most down-to-earth people I've ever worked with." Romany also weighed in,
I would see her as being the type of mom who's hip, hot, and at the same time very stern.
Honor Marie was born at Cedars-Sinai Medical Center on Saturday, June 7th. Dad is Cash Warren, 31.
Source: People; Photo by Lance Staedler/People.