Busy Philipps talks baby names, hypnobirth and more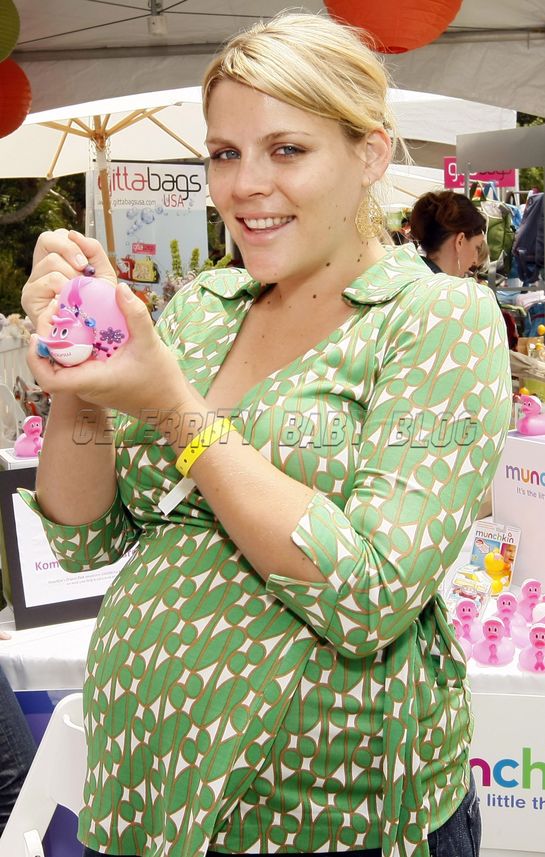 Growing up with a nickname like 'Busy' must make playing the name game particularly problematic for actress Busy Philipps, turning 29 later this month, and her husband Marc Silverstein. The actress, expecting a baby girl in early August, recently told The Cradle she believes that "the name has the tendency to dictate the kind of person that you become," adding that she is "definitely a 'Busy!'" The couple had a name ready to go in the event that their baby-on-the-way was a boy, but Busy said they're struggling to find the perfect combination of traditional and unique when it comes to choosing a name for their daughter.
It's hard. It's a lot of responsibility…Plus, my husband is a writer. I think we're over-thinking it at this point.
As for life after baby, Busy said that although she's going to employ a "play it by ear attitude" she has some definite ideas about what she will and will not attempt as a mom. Breastfeeding is a priority, she revealed, and the couple intends to hire help.
I talked to a lot of people [about this]… some didn't have baby nurses, some had daytime doulas, and some swear by a baby nurse. So I think that if I am going back to work while the baby is little, having those first few weeks getting some rest and being able to have someone to help me figure out how to do this will be incredibly helpful.
Click 'continue reading' for more.
The family bed, on the other hand, is something Busy said she's not interested in trying.
We're not co-sleeping. I'm all for what people want to do in their home, but I need my bed. I'm a terrible sleeper… I toss and turn and flip, and it would just be a disaster if there were a baby there. And I think it's important for a kid to have their own space.
Busy also revealed that she also has no intention of pursuing an epidural. Although she will complete her delivery in a hospital setting with the assistance of a midwife, Busy said that since shewas young she has envisioned a natural birth. To that end, the couple has taken a HypnoBirthing course and Busy will employ HypnoBirth techniques to labor at home with her midwife, then deliver their daughter in-hospital. She acknowledged, however, that even the best laid birth plans have been known to go awry — and Busy said she's prepared to modify her plan as necessary.
I've been doing a lot of reading, and I feel really prepared. Yet, that being said, if something were to happen, I really trust my doctor. So if the baby needs to be born another way that I can't be in control of, then that's the way the baby is going to be born. I feel incredibly prepared for the kind of birth that I want to have, but half of it is up to the baby and what she wants to do. We'll see what kind of birth she has planned!
Photo by Chris Polk for Wireimage.
---

For more of the interview, visit The Cradle. The Cradle offers expert articles & advice, community to connect with others, personalized web pages, the latest maternity and baby gear, eco-living tips for family, celebrity baby news (courtesy of who else but us!), and much more.