Sara Evans wants more children but hates being pregnant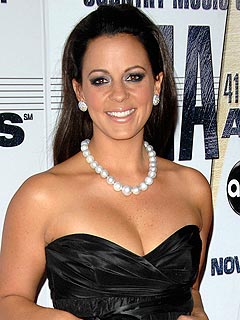 Though she danced around the topic of expanding her family with fiancé Jay Barker just a few months ago, country singer Sara Evans is being a little more forthright about her plans, telling CMA Celebrity Close-Up that she "would definitely love to have another child." She added of Jay, a sports-radio host,
He's just too cute. I just can't imagine not having a baby with him.
Together, the couple — who plan a summer wedding — will bring seven children to their marriage; Sara, 37, is already mom to three children with ex-husband Craig Schelske — Avery Jack, 8 ½, Olivia Margaret, 5 and Audrey Elizabeth, 3 ½. She will also become a step-mom to Jay's four children from his own previous marriage. Fans anxiously awaiting a pregnancy announcement may be in for a disappointment, however. Said Sara,
We still have plenty of time, and I'm in no hurry because I hate being pregnant.
Source: People via CMA Celebrity Close-Up; Photo by Peter Kramer/AP.