Lionel Richie talks about 'surviving' Nicole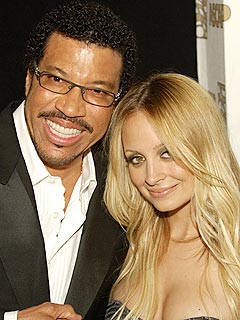 In receiving the Icon Award at yesterday's TV Land Awards, singer Lionel Richie in a lighthearted acceptance speech joked that while he's proud of his ability to endure as an entertainer, he's even more proud of his ability to endure life with daughter Nicole, 26. Said Lionel,
Forget about surviving 40 years in the music business. Just surviving 27 years of Nicole Richie has been a struggle-and-a-half, I want to tell you. I stand here as a survivor, I want you to know, for all the parents out there.
In addition to Nicole, Lionel — who turns 59 next week — is dad to another daughter, 9 ½-year-old Sofia, and son Myles Brockman, 14.
Source: Boston.com; Photo by Jared Milgrim/Everett