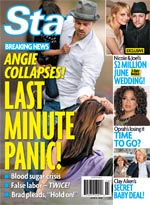 Don't panic if you see the new Star magazine on the newsstand. It's just their creative way to recycle an old photo. It's also a reminder to take everything you see in their magazine with a grain of salt.
With a headline yelling, "Angie Collapses! Last Minute Panic!" with bullet points promising "blood sugar crisis," two incidents of false labor, and Brad Pitt begging her to "hold on!" the accompanying image of Brad helping Angelina Jolie stand up seems to illustrate a collapse. But frequent CBB readers and Brangelina watchers will remember that the photo is from the same set taken May 4 when Angelina, Brad, son Pax Thien, 4 ½, daughter Zahara Marley, 3 ½, and friend The Edge of U2 took a stroll along a beach in France. Besides, do you really think that if Angelina had collapsed that 1, Brad would try to get her to stand, and 2, that if he was truly concerned about getting her to stand up that he wouldn't put down Pax?
Source: MSN Entertainment (click to see the side-by-side comparison)
Thanks to CBB Reader Maya.

When you see dramatic covers like this on the newsstand, do you buy the issue, flip through it on the newsstand, or ignore it?