Larry Birkhead talks of possible move to Kentucky with Dannielynn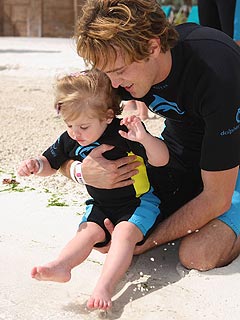 Larry Birkhead, 35, spoke last year about moving into the late Anna Nicole Smith's LA home with their daughter Dannielynn Hope, 21 months. However, now that Larry has purchased a six-bedroom house in his hometown of Louisville, KY, he is considering a move. Larry told People that he may sell their LA home, due to constant reminders of Anna Nicole. He added,
At first, I couldn't imagine parting with it. Then I realized I was probably holding on to it for the wrong reasons, thinking to myself that would ease the pain of losing Anna and Daniel. I have always thought that it would be great for Dannielynn to grow up in her mother's home; however, there is no yard as it is over a canyon. There also isn't any little friends for her to run around with — which makes the idea of Kentucky even more inviting.
If the pair does make the move, it will be delayed — the new home needs extensive repairs and renovation first, Larry shared.
Source: PEOPLE; Photo by WENN at People.com.
Thanks to CBB readers Sarah, Kate and Maya.