Tori Spelling and Dean McDermott talk about Liam and pregnancy cravings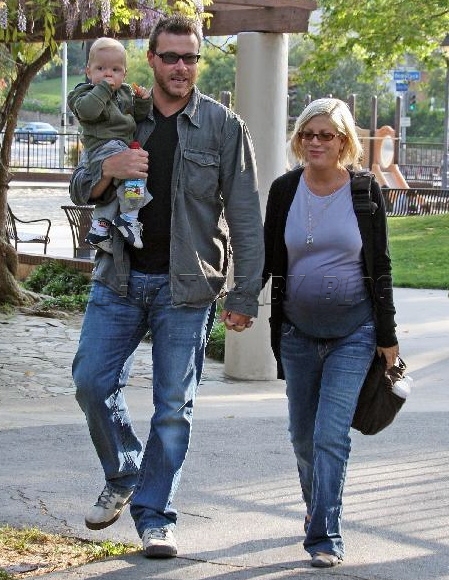 The Spelling-McDermott household has probably been a bit hectic lately with all the happenings in the family! Tori, 35, and her husband, Dean, 41, not only have been wrapped up in filming their reality show Home Sweet Hollywood, but they are also parents to a 14-month-old boy, Liam Aaron, and are expecting their second child together — a baby girl — with reports from In Touch saying a c-section is scheduled for Monday, June 9th.
In an interview with Monsters and Critics, Tori says, "the pregnancy has been a big part of the season," so viewers get ready to have the newest arrival "figured into the season!" For now, though, Tori is thankful that she shares a "great connection" with Dean which allows them to work together and include their growing family as well.
T: Dean is more than hands-on. He is unbelievable with Liam, so that really helps, especially being this pregnant. But the best thing for us is that we all get to work together. So we get to take our baby to work every day which is really helpful.

D: And that's the best thing in the world. And I think it's rare that couples get to take their baby to work. So it's incredible.
Continue reading for more of the interview!
Although Tori thinks Liam is "a little young" to understand that his sister is inside mommy's tummy, he has caught on to pointing to her belly when prompted with 'Where's the baby?' However, Dean — speaking from a male perspective — jokingly explained that age doesn't matter when it comes to understanding that you will be getting a sister who will ultimately "wreak havoc" on you!
T: I keep showing him the belly. I keep saying baby. At this point, when I say baby he points to the belly and I'm not sure if he knows what that means.

D: Even if he was older, I won't think little boys can grasp or get prepared for a little sister. He's in for a world of change having a little sister.
There are no worries that little Liam will be camera-shy as he grows older, as both parents proudly call him "a pro" when it comes to being filmed. Since the reality show began before his birth, Liam has grown up with the crew, with Tori saying "they're like family to him."
T: He's been seeing cameras in our house since he was born and so there was never any confusion. It's just kind of a way of life. And it's really different from what people would think. People think of cameras and crews, and TV shows and they think of a lot of people and a lot of set up. We're just a small reality show, so it's a very small crew. So, he has like one camera and like three people he knows. And that's it.
As for cravings during her pregnancies, Tori says she is pretty level-headed with the strange requests pregnant women often have and so far "never wanted to eat dirt or anything."
D: The only craving [in] this pregnancy that was kind of regular was Rocky Road ice cream, but even that tapered off. The first pregnancy, her one craving — one and only that she had only once — was a root beer float.

T: Yeah, I didn't get cravings really bad. Like you hear about these crazy cravings that pregnant women get. I never had that.
The new season of their reality show is set to premiere on Tuesday, June 17th at 10 p.m. on the Oxygen network.
Source: Monsters and Critics; Photo by Flynet.