Sadie Sandler makes her big screen debut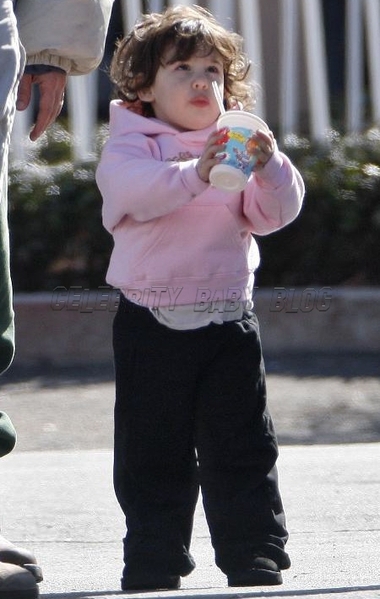 Sadie Sandler, the 2-year-old daughter of actor Adam Sandler, makes her film debut in her dad's new movie You Don't Mess With The Zohan. Adam's director in the film, Dennis Dugan, shared the news at a special screening for the film at Ziegfeld Theater in New York.
She rides on the goat in the end. As soon as she appears on set, Adam's focus goes to her. He just loves her. He got dad practice with his dogs. Now he's moved onto humans.
CBB reader Tricia, who saw a sneak peek at the movie, also sent in the news.
I wanted to let you know that at the very end of the movie, there is a scene on the street where someone is offering goat rides to kids. If you look real quick when they show a toddler on the goat, you'll realize it is little miss Sadie Sandler.

I wouldn't have realized it was her if I wasn't so addicted to your site! Looks like mom Jackie [Titone Sandler] is holding her on the goat but you don't get a really good look at her, and if you blink you might miss Sadie, but she's there.
Adam, 41, and Jackie, 33, expect their second child in November.
Source: OK! Magazine; Photo by Flynet
Thanks to CBB reader Tricia.