Patrick Dempsey says Michelle Monaghan will be 'a great mom'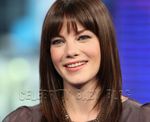 The sky's the limit for Michelle Monaghan's potential as a parent, her Made of Honor co-star Patrick Dempsey said today. The 42-year-old father to 16-month-old twins Darby Galen and Sullivan Patrick along with daughter Talula Fyfe, 6, spoke glowingly about Michelle, 32, telling People that "she will be a great mom because she has a good head on her shoulders, a fine husband, and overall, she is a lovely woman." Although she only recently announced that she was expecting a baby with husband Peter White in late fall, Patrick said he was in on Michelle's "big secret" all along — and revealed that he's told his co-star about all the big changes that are on the way.
She may not see it now, but her life will change profoundly after she delivers the baby. I told her being a parent is a feeling that she will not understand until she actually has the child.
For Patrick, one facet of his life that likely will never change is his enthusiasm for racing. In New York for a race this weekend, he lamented the fact that his wife Jillian and their three children are not yet ready for the race circuit. Said Patrick,
It is hard to leave the family on weekends because I love spending time with the kids, but I also love to race. I count the days until they can come with me, and we can all be here together.
Source: People; Photo by Theo Wargo/WireImage.com.