To pose or not to pose — Readers ask, 'Where's Nahla?'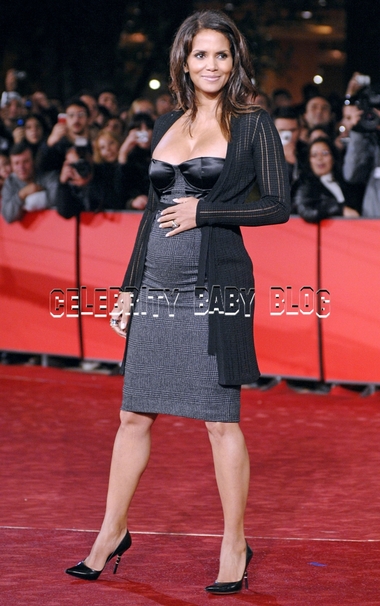 It seems more and more lately that the first question asked of us at CBB following a celebrity baby birth is when the baby will be introduced to the world via the cover of a magazine. At the moment, we're fielding a lot of 'Where's Nahla?' emails from readers and the easy answer is that she's at home with her mom, actress Halle Berry.
But as for why Halle has not yet sat for a photoshoot or given any in-depth interviews about new motherhood and the birth of her 11 ½-week-old daughter, we have no easy answer — for we know no more about her decision-making process than anyone else. If history is any guide there could be several reasons why we still haven't been 'officially' introduced to Nahla and other celebrity babies like her, including Courtney Thorne Smith's son Jacob 'Jake' Emerson and Toni Collette's daughter Sage Florence, both of whom turn 5-months-old next week.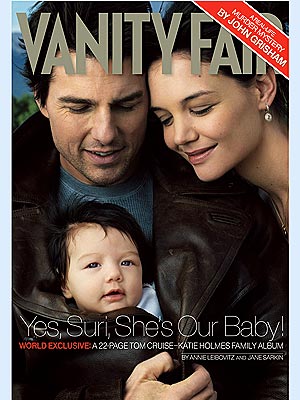 When Suri Cruise, 2, was introduced to the world in Vanity Fair in September 2006, it was to much fanfare. Magazines were printed in a cordoned-off area of a Kentucky printing press under the watchful eye of security guards. At the time, the delay by Suri's parents Tom Cruise and Katie Holmes in introducing their daughter to the public was viewed with skepticism. Speculation ran the gamut from rumors that the couple were disappointed in the purchase price offered for exclusive photos of their daughter, to even rumors that Suri didn't exist. In the end, Tom recently revealed, the real reason they opted to forego a photoshoot was far more straightforward: They simply didn't think it was necessary. Said Tom,
Kate and I didn't feel any need to [introduce Suri]. We said why? It's just our family. We were [in Telluride] with the whole family, then we heard all this stuff that was going on, and I said 'What do you want to do?' Kate said, 'Okay, lets just do [a photo shoot]. This is ridiculous. And we'll just do it. And that will be it.' We just wanted to have our baby and have the kids and our families and everyone get to know Suri and just chill.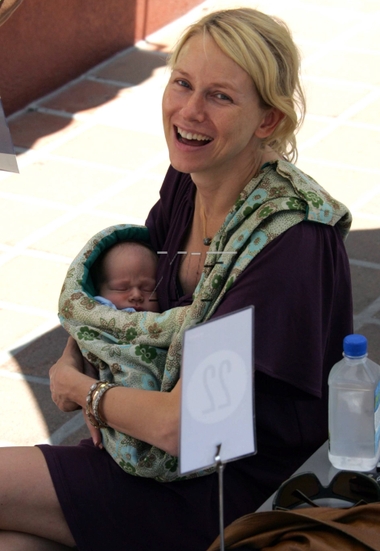 For actors Naomi Watts and Liev Schreiber, a simple trip to the post office was all that was needed to quell paparazzi interest in their then 2-week-old son Alexander 'Sasha' Pete, now 10 ½-months. Naomi said later that the decision to introduce Sasha while out running errands as opposed to in a posed setting was the right one for their family.
I didn't even leave the house until two or three weeks after [Sasha was born]. [Paparazzi] had just been really waiting for the first picture. We tried to think of the best way to deal with it. People offered to run the exclusive, and some people thought it would be a good idea. Once they see a close-up of the baby, [paparazzi] leave you alone. We didn't feel right about it. We wanted to do it as normally as possible. You can protect yourself so much, and then you start feeling not normal, and you want to be normal.
Other recent first-time celebrity parents appear to be following in Naomi's footsteps. Actresses Amanda Peet, mom to 3 ½-month-old Frances 'Frankie' Pen, and Constance Zimmer, mom to 5-month-old Colette Zoe, both introduced their daughters to CBB readers by simply being out and about. Actor Chris Noth gave us our first real peek at Orion Christopher, 4 ½-months, while on a coffee run.
Angela Kinsey was recently depicted in US magazine strolling with daughter Isabel Ruby, 4 ½-weeks, in a candid photograph. Agreeing to a photoshoot was something the 36-year-old actress expressed reservations about previously; While still pregnant, Angela blogged about being uncertain over how best to introduce her daughter to fans. She wrote,
Some of you have asked if I am going to do a magazine photo shoot of me, the baby or the nursery. I am still on the fence about this. It's just such a tough decision for me…Of course my sisters think a magazine with her and I in it would be such a neat thing for her to have someday and too cute for my baby scrapbook. But there is part of me that wants to protect her from the world. It all depends on how comfortable I feel once she is here and safely in my arms.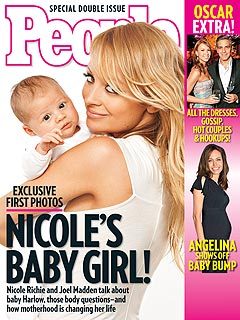 But it was that same maternal instinct to keep her baby safe which led Nicole Richie to sit for a photoshoot with People. After welcoming Harlow Winter Kate, 5-months next week, Nicole said she knew paparazzi interest was high. By introducing her newborn daughter on her own terms, in a controlled setting, Nicole said she was "just being a protective mom." As she later told Harper's Bazaar,
The day before it came out, I was nervous, because there was going to be a picture of my daughter everywhere. But if I didn't put a picture out, it would have been 10 times worse. I wanted to stop people trying to get pictures of her.
Are there any other celebrity babies you're still waiting to see photos of? Do exclusive photoshoots lessen or increase your interest in celebrity babies?
Photos by Bauer Griffin, Annie Leibovitz exclusively for Vanity Fair, Bauer Griffin and Andrew MacPherson