Kris Draper says Stanley Cup win is sweeter since becoming a dad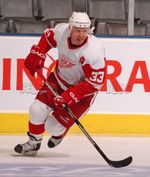 Although he's won four Stanley Cups in his lifetime, Detroit Red Wings forward Kris Draper hadn't yet hoisted the infamous trophy in front of his children until Wednesday night, when his team defeated the Pittsburgh Penguins. As his daughter Kennedi, 8, and son Kienan, 6, looked on 36-year-old Kris — who also recently welcomed daughter Kamryn Rose, 2-weeks, with wife Julie — said that fatherhood makes the win that much sweeter.
No. 4, right now, I have to say it is the best one. To have my kids on the ice with me is incredible. Six years ago, they weren't able to be a part of it and this one is so special. To be able to win this one and have my wife and have my kids here — or two out of three of my kids — it's a huge feeling.
Source: NHL.com; Photo by Brad White/WireImage.