Jodie Sweetin blogs about Zoie's future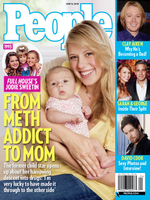 Zoie Laurelmae Herpin, 8-weeks tomorrow, has had quite a busy week. The newborn daughter of actress Jodie Sweetin, 25, and her husband Cody Herpin made her official debut on the cover of People and taped appearances for both Access Hollywood and Good Morning America. In a blog entry for OK! yesterday, Jodie said Zoie "did pretty well" despite all the commotion — although she did get "pretty cranky" during the GMA shoot. She added,
Maybe when she gets older, she'll be in front of the camera like her mama! Who knows?! If she wanted to get into acting, I'll totally support her. But if she doesn't want to do it and would rather play soccer, dance or do karate, I'll support her in that too. As long as she's happy, I'm happy!
Zoie is the first child for the couple, who married in 2007.
Source: OK!; Cover courtesy of People