Jodie Sweetin and daughter on People; introducing Zoie Laurelmae Herpin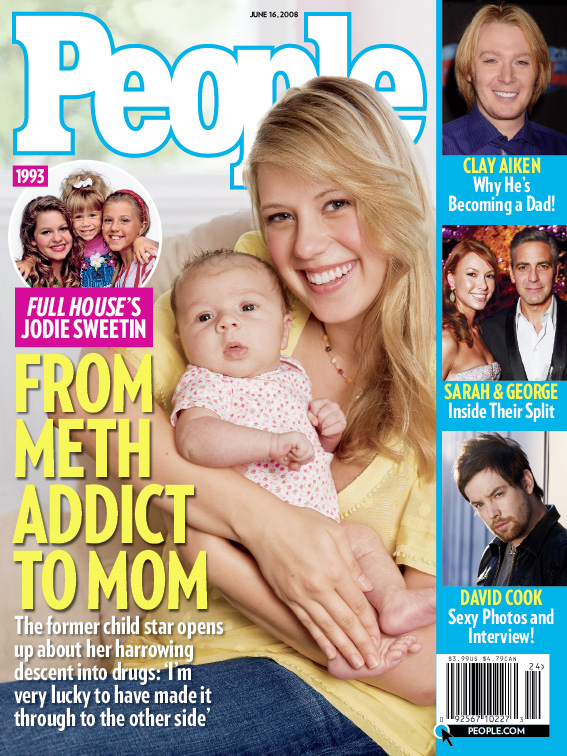 Jodie Sweetin and her newborn daughter Zoie Laurelmae Herpin appear on the cover of People this week. Inside, Jodie discusses her journey from meth addiction to recovery, marriage, and motherhood. Revealing that Zoie is "taking in and noticing more of the world" every day, the former Full House star still can't quite believe she's a parent.
You look at your baby and think, 'Wow, I did that.' It's reallyamazing. I'm still like, 'Oh, wow, I'm a mom.' It's the most overwhelming, exciting amazing thingI've ever done. It's really wonderful — and then she starts crying!
The 26-year-old actress delivered Zoie by emergency c-section on April 12th; and she is the first child for Jodie and her husband Cody Herpin. When asked what she's found most surprising in the 7-weeks since her daughter's birth, Jodie shared that she had prepared for the worst, but has been blessed with a relatively laid-back baby.
I guess what surprised me is that our baby has been really easy. I was prepared for the horror stories of the child that's up all night crying and won't stop. It's not as hard as I was expecting it to be. She's wonderful and fits right into our life.
Check out our exclusive interview and photoshoot of Jodie just before she gave birth to Zoie.
Cover courtesy People; full size image below as well as a video clip from Good Morning America. Additionally, watch an Access Hollywood appearance here. You can also watch an interview/photoshoot video at People.com — more images of Zoie there!