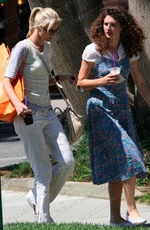 Contrary to what she appeared to suggest in early May, Joely Richardson says that she has no immediate plans to adopt a child from Africa. A recent trip to Malawi as part of the Be Water Wise with Ariel campaign clearly had a lasting impact on the 43-year-old actress — but she said that the timing, and the circumstances, aren't quite right for an adoption. For starters her daughter Daisy is 16, which left Joely wondering "is this a time to start all over again or is this a time to realize those child-rearing years are over?" Furthermore, Joely recently told the Sunday Mirror that,
I spoke to a woman who works at an orphanage and she said that they encourage as much help and support for the orphanage as we can give, but ideally they like a child not to be taken out of their natural environment. And that stuck with me. I just think it's about what's in the child's best interests. There are exceptions, obviously, as in Madonna's case, when you have a great support system and can reinvest a lot into a country, the way she has done.
Daisy's dad is movie producer Tim Bevan.
Source: Sunday Mirror; Photo by WENN