Gwyneth Paltrow admits that she may "force" herself to become pregnant again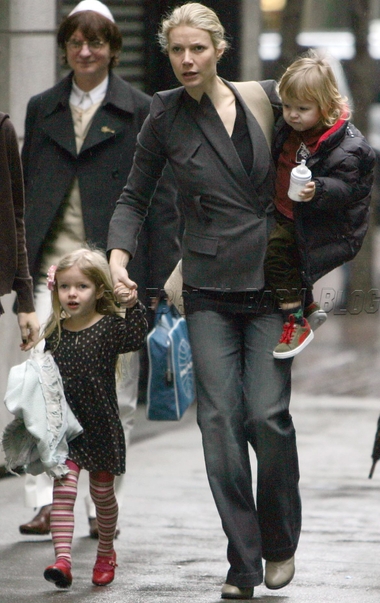 Actress Gwyneth Paltrow has previously stated that she wasn't a fan of being pregnant, but she loved the end results — daughter Apple, 4, and son Moses, 2. In the new issue of Harper's Bazaar, the 35-year-old admits that those results may be what makes her decide to get pregnant again.
I may force myself to do it one more time because the result is so worth it. And also my [late] dad said to me that his only regret in life was that he had only two children and he didn't have more.
Morning sickness was one of the reasons Gwyneth was not a fan of being pregnant.
My mother loved each [pregnancy] to bits; she felt alive and beautiful. I wanted to throw up all the time.
And if morning sickness helps keep Gwyneth from deciding to become pregnant one more time, she admits that adoption is not out of the picture.
I do feel we're so fortunate, and we kind of owe it to humanity. We have a lot of love to give and a lot of resources.
Continue reading for Gwyneth's thoughts on getting her body back in shape after giving birth and how she keeps her marriage alive.
On getting her post-baby body back:
I don't want to look like a mother who doesn't care. For myself, for my work, and for my relationship, I want to look good.
On keeping her marriage to Coldplay's Chris Martin sexy:
I think you have to make an effort to compartmentalize a little bit. When your children are asleep, you have to open another world … children and being a parent can really drain that side of you. I would like to say 'Go away for the weekend.' But, of course, I've done that like one time on my birthday. But it's important to carve out some time; otherwise, you don't have an inner life. You just give all day, and then you pass out at night.
Source: Harper's Bazaar via US Magazine; Photo by Ramey
Thanks to CBB readers Kate and Mary Beth.