Friends show support for Clay Aiken, Jaymes Foster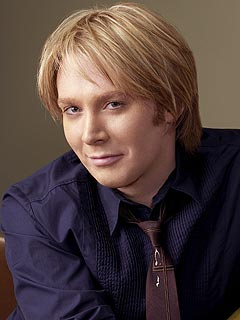 Eric and Eliza Roberts, two close friends of Jaymes Foster — who expects a baby with Clay Aiken in August — want the world to know that the relationship between the first-time parents-to-be is not as impersonal as some have speculated. Eric, older brother to actress Julia Roberts, said he first learned of the pregnancy in March at Jaymes' 50th birthday party although it wasn't until later that he and Eliza learned who fathered the baby. In any event, according to Eliza, "it's not like [Clay]'s the donor and [Jaymes] is the surrogate." Quite the contrary, Eliza said, "these are two people who made a very loving decision to have a baby together." Added Eric,
This is a story of two people, who perhaps not typical as parents –- whatever typical is –- or at a stage of life typical for parent, want to have a child to love and to experience parenthood. These people have the best foundation of all to share such an important task, which is a strong, abiding friendship.
Meanwhile, Clay's former American Idol cast-mates are also chiming in with well-wishes for the 29-year-old singer. Carmen Rasmusen said that Clay has spoken often of his desire to be a dad, while Jennifer Hudson said she thinks Clay "will be a good parent."
Source: People; Photo by RCA Records