Jack Black says he thought Jolie-Pitt twin news was 'common knowledge'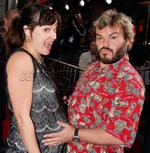 Though some people may have taken issue with Jack Black's accidental revelation that Angelina Jolie and Brad Pitt were expecting twins, don't count Angelina among them. In a new interview with Extra, Jack revealed that the 32-year-old actress later told him that "she was relieved because she and Brad didn't want to hold in the secret." Jack said he didn't realize there was even a secret to be had, after his wife Tanya Haden read about the rumor of twins in a magazine. He added,
Then I thought [the twins news] was common knowledge.
As for his own happy baby news — he and Tanya welcomed son Thomas David last Friday — Jack joked that the birth has been low-key, at least from a media perspective.
Nobody cares about my babies. It's all about Angelina's babies. All we hear about.
Jack and Tanya's first son, Samuel Jason, turns 2 on June 10.
Source: Extra via US; Photo by Splash News
Thanks to CBB reader Malia