Dennis Quaid talks about Fathers Day plans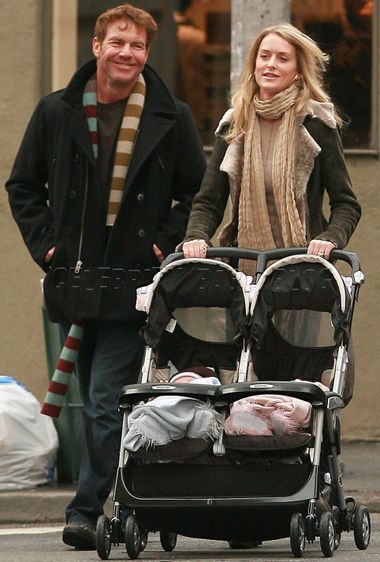 As he prepares to mark his first Fathers Day as dad to twins Zoe Grace and Thomas Boone, 7-months on Sunday, Dennis Quaid says he has one thing on his wish-list: Lots and lots of downtime.
I'm just going to lie there! I am so sleep deprived! I'm just going to get my ties and sit around and be with my babies and my wife.
Sleep — or the lack thereof– is clearly on Dennis' mind. In fact, the 54-year-old actor said that if he had to give a single piece of advice to other soon-to-be parents it would be to "get some sleep! I don't care if it's two in the afternoon, if those babies are finally asleep, you sleep too!" Now that the twins scary medical ordeal is behind them, Dennis said he realizes how fortunate his family truly is.
I am just so lucky. The twins are doing great. I love to watch them getting food all over their faces. I love watching them sleep. It is all the little things.
The twins are Dennis' children with wife Kimberly; Dennis also has a son, 16-year-old Jack Henry, with ex-wife Meg Ryan.
Source: OK!; Photo by PacificCoastNewsOnline.com
Thanks to CBB reader Kate