Brooke Mueller denies pregnancy rumors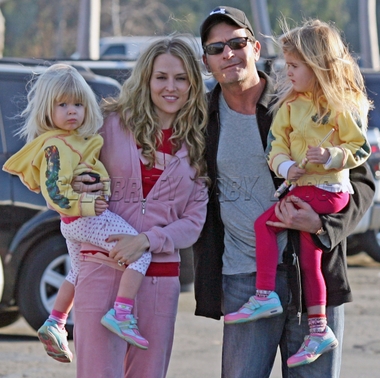 Contrary to published reports, Brooke Mueller, 30, and Charlie Sheen, 42, are not expecting their first child together. The story was shot down last night by Brooke herself, who told Extra that "there's no truth" to the rumor of a baby-on-the-way, as first suggested last week by the NY Daily News. That's not to say that the couple won't be soon trying for a baby — or babies, from the sound of things. Said Brooke,
That's the next step…. Hopefully triplets! Could you imagine if I really had triplets. He'd be like, 'Whoa!'
Brooke and Charlie — who has daughters Lola, 3, and Sam, 4, with ex-wife Denise Richards and daughter Cassandra, 23, with ex-girlfriend Paula Profitt — were married last Friday.
Sources: Extra via OK!; Photo by Bauer Griffin.