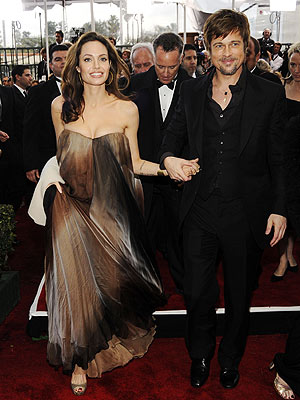 Angelina Jolie can work a sleeveless floor-length dress like nobody's business. It seems like every time we see her photographed, she's wearing one of her now signature maxi-dresses or caftans. The great thing about these generously skirted floor-length styles is that they can be worn both before, during, and after pregnancy. In fact, it's great to hide an early pregnancy, but better stay away from wind because one gust on the SAG Awards red carpet and your pregnancy is revealed. Just ask Angelina! (How is it possible that a dress that covered so much could leave so little to the imagination?)
From that ombre vintage Hermes to the gorgeous green Max Azria Atelier she wore more recently, Angelina's second pregnancy style is all about "soft, sexy, and romantic," as her stylist Jen Rade put it.
Click Continue Reading for Angelina's maxi timeline and tips you can use!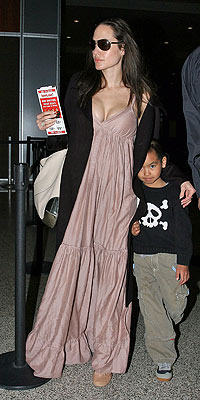 Here's Angelina's maxi-dress timeline:
Other celeb moms-to-be enjoying the max style include Gwen Stefani, Tori Spelling, and Jessica Alba.
Want to get the look for less? Check out these features on the tiered maxi-dress on ModernGearTV.com and Hot Mama Daily.However, if you're not tall and thin like Angelina, there are someimportant things to watch out for. Because maxi-dresses tend to have agenerous skirt, you can wear non-maternity versions while you'repregnant (though the front will be shorter the bigger your bump) andmaternity versions when you're not.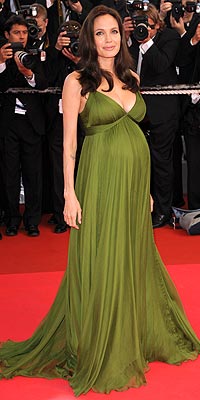 Another benefit ofmaxi-dresses is that there is less attention on your legs and feet soyou can keep your swollen ankles and varicose veins under cover and noone will pay attention to your flip flops and impossible to shave legs. Just be careful not to go-too- casual with your overall maxi-look because you may end up lookingfrumpy instead of chic! If you're too tired for a full toilette, pullyour hair into a ponytail (or brush your hair and smooth some gel orserum over it if your hair's not long enough), and apply a coat ofmascara and some tinted lip balm. Add a necklace or a few bangles andyou're ready to go out for dinner. A handbag will dress it up more thana shoulder bag, but a simple tote is fine too, as long as it's neat.
For more do's and don'ts, check out this article.
Would you wear a maxi as maternity wear?

Photos: Doug Peters/PA Photos/Retna, Kevin Mazur/WireImage, Lydie/SIPA, Matei H-Dean M/Bauer-Griffin