Gavin Rossdale on Gwen, Daisy, Kingston, and the new baby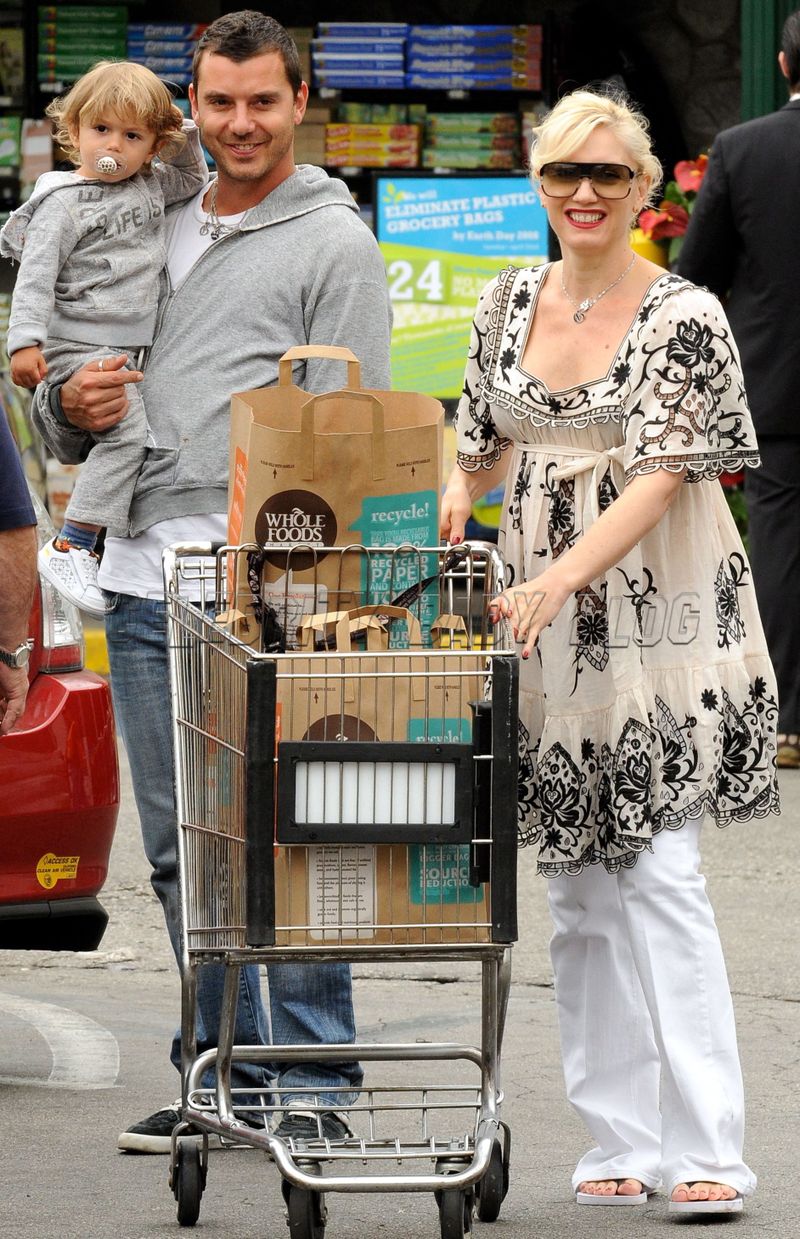 Gavin Rossdale has sung his wife's praises before, but it's not just about her personality — he loves her style too. The 42-year-old musician tells The Daily Record that Gwen Stefani "always looks so great."
It's like four different women a week coming out of the dressing room. It is fantastic.
Gwen may look put together, but the first trimesters of both pregnancies were tough on her — she was frequently ill. Gavin explained that he appreciates her hard work in "making a human," so he attempts to relieve smaller burdens in any way he can. The tennis fan used an example from 2-year-old son Kingston James McGregor's infancy to make his point.
Whatever I can do to help, I'll do, but the guys get off light. We get to have the fun, then nip off, and the girls have to carry the physical burden of making a human, which is phenomenal.

Every day, I am more crazy about Kingston. He'll do something and all over again I can't believe how magic he is. This time, I feel a lot more confident. First time around, I hadn'teven held a baby for more than three minutes prior to Kingston beingborn. I didn't even know how to burp him. When Kingston was born, the World Cup and Wimbledon were on and, because I was in LA, the matches were at five in the morning, so I could wake up and tell Gwen I would take him and that she should get some rest.
Click below to read about the baby's "goth nursery" and Gavin's comments on daughter Daisy.
Although Gavin will be busy promoting his latest album, Wanderlust, he plans to work touring and other requirements around the birth of the new baby, due in mid-summer.
It's more than my life's worth to miss the births of my children.I'd be dodging plates, and frying pans would be flying past my head. Iwant to be around and supportive and helpful. The first birth was sooverwhelming. It was the most thoughtful birth ever.
Stating again that he and Gwen don't want to know the sex of the child before the delivery, Gavin shared that they have chosen a design for the nursery, regardless of whether it's a girl or boy.
We don't know if it's a boy or a girl. We're into the surprise element.Plus we are going to put him in a black room. He'll be a goth baby soit doesn't matter if it is a girl or a boy.
Gavin also made a brief comment on a topic that he has been silent on for the last four years — his daughter Daisy, 19. Having discovered in 2004 that the fling he had with Pearl Lowe in the late 80s resulted in a child, Gavin was already wed to Gwen and had discussed starting a family. The news that Daisy was his daughter (rather than his godchild, as he had believed) was a blow the rocker says he has not yet come to terms with. Refusing to criticize Pearl, Gavin nonetheless made it clear that he didn't appreciate the public spectacle the revelation became.
It's not easy. It's one of those things. It's life. I had to dealwith it, which was unfortunate for Gwen and I because we are privatepeople. I didn't want to run and hide. Someone has to take the highground, not be so attention-grabbing about it and just wait for it allto calm down. But I suppose Pearl and I are polar opposites.

Therelationship with Daisy will be there. It will be lovely when it's notso career-oriented. It's not private, but it should be an incrediblyprivate thing between the people involved, yet it gets commented onevery day of my life. I am the private guy in all this, but Daisy is anincredibly smart and beautiful girl. Things will work themselves out.
Gavin's first solo record, Wanderlust, will be released on Tuesday, June 3rd; watch the trailer video to hear new songs here.
Source: The Daily Record; Photo by JFXOnline.com
Thanks to CBB readers Bex and Chloe.