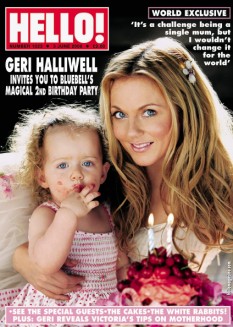 Bluebell Madonna Halliwell's second birthday bash featured white rabbits and an Alice in Wonderland theme, Spice Girl Geri Halliwell revealed in the latest issue of Hello! UK. In an accompanying photo spread — see two images here — Bluebell can be seen wearing a flowy pink princess dress and enjoying her cake at the party, held earlier this month. She turned 2-years old on May 14th.
Source: Hello! UK via The Daily Mail; Cover courtesy Hello! UK
Thanks to CBB readers Nico and Kate.