Tori Spelling talks about seeing the world through the eyes of a toddler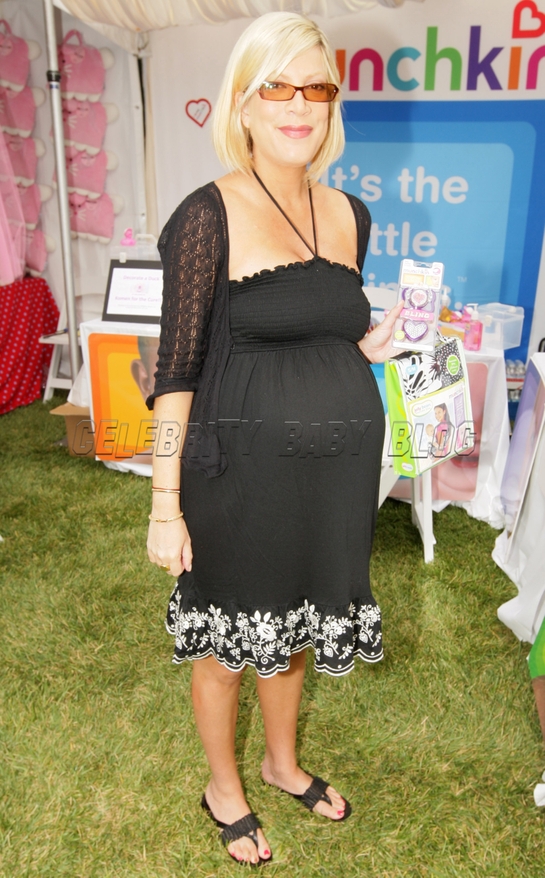 As Tori Spelling prepares to welcome a brand new baby girl into her family next week, the 35-year-old actress is also welcoming son Liam, 14-months, to toddlerhood. In a new blog entry for Graco Tori said that Liam is already displaying some hallmark toddler behaviors — like working the crowd and mimicking his mom and dad, actor Dean McDermott.
Liam just started waving his finger at me and saying 'No, No, No.' It makes me laugh hysterically. And, he's so perceptive that whenever he does something that garners laughter, he keeps doing it.
Tori said tradition is important to she and Dean as they grow their family. The couple hope to carry on traditions that they had when they were children, like reading Goodnight Moon to Liam at bedtime, as well as start traditions of their own, like nightly family dinners. That's where Tori said she will someday "have an open dialogue about life" with their children.
Family dinners are a tradition that I want to start with my family. Growing up we didn't have family dinners all the time and I think they are very important…I want my kids to always feel safe that they can express themselves and talk to us about everything.
Click 'continue reading' for more.
Another tradition-in-the-making, at least for now, involves the morning wake-up routine of their son — Something Tori singled out as a daily highlight.
When he wakes up we bring him into our room and we give him his bottle in bed with us. He nestles right in the middle of us and the 3 of us watch cartoons (age and learning appropriate, of course!). It's by far my favorite time of day.
When he's not hanging out in his bumper jumper — which Tori said is Liam's favorite place to burn off some excess toddler energy– Liam is busy exploring and learning about new things. Seeing the world through a child's eyes has been a revelation for Tori and Dean.
Since becoming a mom, I've realized that there are so much more important things in life than ourselves and what we have going on. When you see life created and watch it learn and appreciate the small things, it really puts things into perspective for you. Being a mom gives me the chance to relive things through Liams eyes and appreciate things that I never took the time to appreciate.
Source: Graco; Photo by Chris Polk for Wireimage