Don't move kids to a booster seat too soon! A refresher course from CBB reader Andrea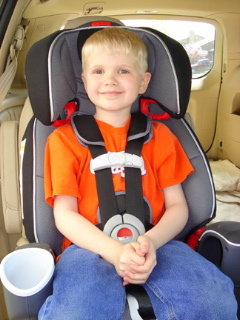 We received so much positive feedback following our recent posts on car seat safety (read about rear-facing as long as possible and basic car safety tips), as well as so many questions about the appropriate time to move kids up to a booster seat and/or adult seatbelt, CBB reader Andrea has graciously agreed to provide us with some additional information. In part one of a two-part series, Andrea cautions against the dangers of using a booster seat before a child is truly ready.
by CBB Reader Andrea, Certified Child Passenger Safety Technician (CPST)
Child passenger safety advocates recommend keeping children in 5-point harnessed car seats until at least 4 years and 40 lbs. With more and more car seats now accomodating children past 40 lbs. many children are able to stay in 5-point harnessed car seats until age 6 or even longer (see picture at left). The American Academy of Pediatrics recommends that children ride in a forward-facing car seat with a harness until the seat is outgrown.
For more, click 'continue reading.'
SafeKids USA recommends using harnessed car seats as long as possible before 'graduating' to belt-positioning booster seats. Each step 'up' in car seats — from rear-facing to forward-facing, from forward-facing to booster, from booster to seat belt — is a significant step 'down' in safety.
Pictured: Andrea's son in a forward-facing car seat (above left), booster seat (right), and seat belt (below left).
Booster seats can only protect children if they hold the adult seat belt in the proper position. Younger children are generally less mature and are often unable to sit still in a booster seat, allowing the seat belt to slip out of the proper position. In addition, younger children may be irritated by the seat belt in a poorly fitting booster and may attempt to put the shoulder portion of the belt behind them. This effectively puts them in a lap-only belt and can cause serious injuries in the event of even a minor crash. Too-young children in boosters can also be a major distraction to a driver, putting everyone in the vehicle at risk.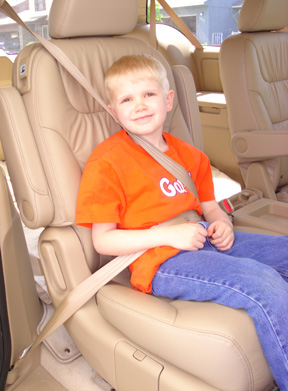 According to the Kyle David Miller Foundation, a child passenger safety advocacy group, Tom Bologna, President of Britax USA said that children under 7-10 years of age should not be placed into a booster seat. This is because the child's iliac crest (hip bones) are not yet developed enough such that they prevent the adult seatbelt from resting on the soft abdomen. Therefore an adult seatbelt provides insufficient protection to the child and could result in internal injuries, possibly resulting in the death of the child.
Children's Hospital of Philadelphia, a leading researcher in the field of child passenger safety, says that although many children after age 4 are in adult seat belts, the best protection for children aged 4 to 8 are either child safety seats with a harness or belt-positioning booster seats — depending on the child's size.
See the difference between a 5-point harness car seat and a booster seat using an adult seat belt. It's easy to see what the safer choice is. Watch these videos to learn more about what can happen when children move to booster seats too early:
– Belle's Gift
– Kyle David Miller's story
---
In Andrea's next installment, she'll bring you information about when it's safe for children to use a booster seat, as well as when it's safe for an older child to use the adult seat belt, only.