NHL player Kris Draper celebrates a momentous Saturday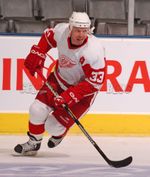 There was much to celebrate in the Draper household Saturday, for NHL player Kris Draper was marking not one, not two, but three momentous occasions all at once. That morning, he welcomed home from the hospital wife Julie and their newborn daughter Kamryn Rose, 5-days; He also celebrated his own 37th birthday and played in Game 1 of the Stanley Cup Finals. That his team, the Detroit Red Wings, won the series opener against the Pittsburgh Penguins made the day all the more memorable.
Pretty excited to get [Julie and Kamryn] back home. It's an unbelievable day for me, celebrating a birthday, bringing home my new baby girl and playing Game 1 of the Stanley Cup Finals. It's an awesome day.
Kamryn joins big sister Kennedi, 8, and brother Kienan, 6, at home.
Source: Detroit Free Press; Photo by Brad White/WireImage