CBB's Top Registry Picks: Sarah's 'must-have' baby items
Looking for some advice on some great baby-buys? Check out our new series — CBB Registry — where our staff fills you in on their 'must-have' baby products. Fashion, babywearing, strollers, bottles…we cover it all!
Today we're featuring our staff editor, Sarah, and her baby essentials.
Click below for Sarah's registry!
It didn't take any time for Sarah, our staff editor, to decide on what her most-loved baby items were! After being a nanny to seven kids over a four year period, she has had enough experience with babies and toddlers to tell you some major must-haves to make your life a bit easier — from keeping your car clean to dressing your 'girly-girl.'
Circo/Cherokee The twins I nannied were extremely girly and LIVE in dresses in the spring and summer time. However, you don't want them wearing their holiday best at play time. Target carries a huge selection of cotton and jersey sundresses that are easy to wear, simple to clean if they get stained, and are easy to transition into fall or on a cooler spring day with a long sleeve top underneath. Best of all, they are all between $7-$16.
Coppertone Kids Continuous Cover SPF 50 ($10) No more complaints about being sticky, smelly, or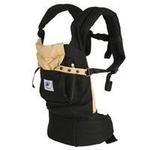 lotion taking too long to dry. This stuff sprays on fast, is clear, and dries quickly. It also clicks to an 'off' position to keep your beach and/or diaper bag protected.
Ergo Baby Carrier ($92, pictured right) This is my absolute hands down favorite carrier I have used (and I've used a lot)! I have back problems, yet for the most part hate taking a stroller with me if I really don't need it. My chiropractor told me he'd rather see me with a kid in a carrier and have the weight spread evenly between my shoulders and back/hips, rather than hoisting the baby on to one hip and carrying her that way — I was throwing my hips out of alignment doing that. The Ergo was a really great solution for me and my little one loved riding up high — in fact, she used to bring the Ergo to me and ask 'Care-yuh on?' I used this from about 9 months to age 2 1/2.
CBB Deal: Duck Duck Goose Boutique is offering a 15% discount with code "CBBMOM" and free shipping on orders over $100. Expires 6/30/08.
Peanut Shell ($48) and Karma Baby Pouches There were my favorite carriers for the first year. My fleece Peanut Shell was really cozy and perfect for a cradle or tummy-to-tummy hold when the little one was 0-4 months old and sleeping all the time, yet I still needed my hands free to care for her 2-year-old sister. Once she was sitting in a hip carry, at about 5-6 months, I loved the deep pocket of my Karma Baby — the little one loved to arch her back and I always felt she was safe in this carrier. Both brands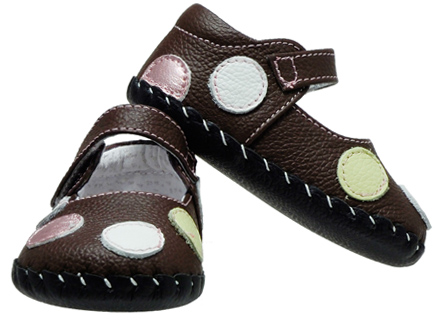 of pouches include a pocket and a key ring, which I would usually attach a pacifier to. (read The Peanut Shell review)
CBB Deal: The Peanut Shell is offering 15% off with coupon code "PSILOVEYOU" (case sensitive). Expires 7/15/08. AND Karma Baby is offering a 20% discount with coupon code CBB. Expires 07/01/08.
Pediped ($30, Gisele style pictured left) There are lots of fun colors and styles, but nothing cartoon-character cheesy. The Originals were excellent while the little one was learning to walk — the leather bottom protected her feet from dirt, rocks, and sticks, but also allowed her to feel the ground and learn how her foot moved. (read our pediped review)
CBB Deal: Pediped is offering free shipping with coupon code "hapr08". Expires 12/08.
Snack Trap ($5) This is easy for older babies and toddlers to feed themselves and kept my car and diaper bag clean! (Read the Snack Trap review)
Check back tomorrow for Reva's registry!