Going from no children to one vs. one child to two — Which is tougher?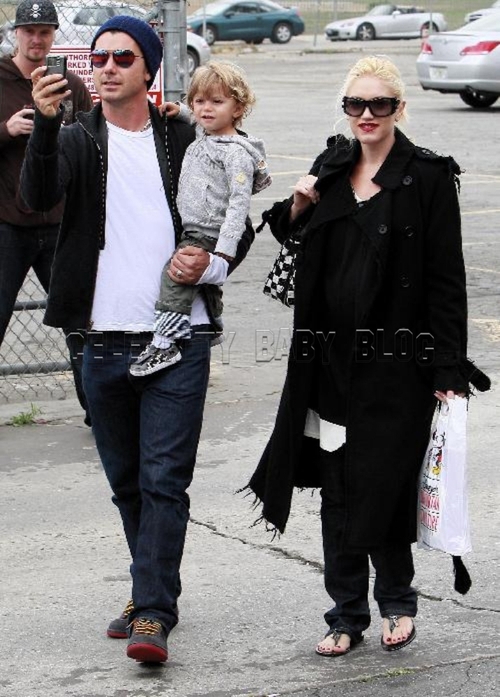 There are plenty of familiar faces at CBB who are about to navigate the unchartered territory of 'mom and dad to two.' Gwen Stefani and Gavin Rossdale, parents to Kingston, who turns 2-years-old next week, expect a delivery surprise this summer, Fred Savage and wife Jennifer Stone Savage, parents to 21-month-old Oliver, expect a delivery surprise of their own at any time, while Adam Sandler just announced that his wife Jackie is 3 ½-months pregnant with their second child.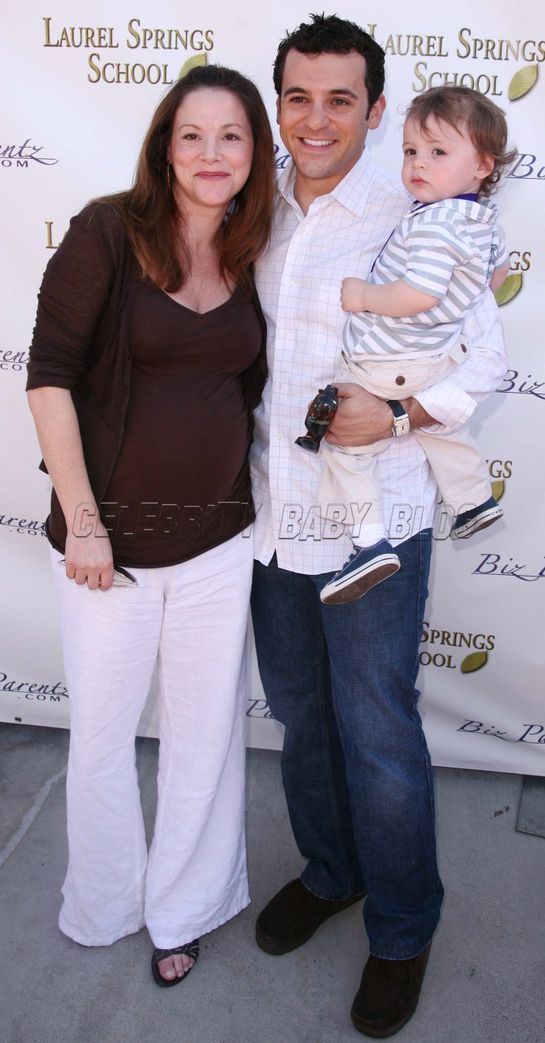 If you are expecting your second child right now, you probably have been warned repeatedly about how much more complicated your life is about to become. "Oh, you thought one was difficult, just wait until you have two!" has probably become a familiar, and perhaps unwelcome, refrain. Hopefully you've also encountered at least a few friends along the way who found going from no kids to one a harder leap to make than going from one to two — or from four to six, if you're the Jolie-Pitts!
Either way, we at CBB have found ourselves wondering lately which transition is the easier of the two. And should Gwen and Gavin or Fred and Jennifer find themselves feeling apprehensive about their upcoming arrivals, wondering what it means for their families on the whole, at least they can turn to their fellow celebrity parents for words of wisdom.
Click 'continue reading' for more, including a poll where you can let us know what your experience was.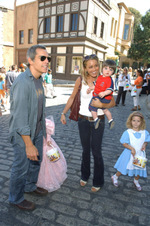 Ben Stiller, who with wife Christine Taylor has two children — Ella, 6 and Quinlin, 2 ½ — has said that the addition of their son in 2005 meant that "there is a lot more craziness all the time" and "definitely less sleep." Brooke Burke, who recently welcomed son Shaya, 11-weeks, with fiancé David Charvet, seems to share the sentiment. In her exclusive interview with CBB, she said that (pre-Shaya, at least) going from a mom of one (to 8-year-old Neriah) to a mom of two (to 6-year-old Sierra) "was the most challenging" transition she's had to make as a parent. Says Brooke,
[Neriah] traveled around the world with me with 'Wild On…,' I took her everywhere, I wore her. She was just a really easy baby. Then when I brought my second baby into the mix, I kind of needed to unpack my bags, stay home … introduce a more structured type of rearing, because you can't do the same thing with two that you did with one.
Going from no children to one child often means a disrupted sleep schedule, adjusting to the concept of meeting somebody else's needs before your own, drastically reduced 'me' time and possibly putting a career on hold, if not saying goodbye to said career altogether. Factor in the anxiety, the nerves and the stress of caring for a baby — especially if you don't have much experience with newborns — and it's easy to see why the transition from no kids to one can be tough for some. That said, eventually sleep does return to your life, a routine is established and that fragile, crying, pooping thing that has left you so unnerved turns into a strong and sturdy, talking, potty-trained thing (that may still leave you feeling unnerved… but you get the point).
Going from one child to two, on the other hand, means attention that is permanently divided. The schedule you carefully crafted over the previous year or two with your firstborn? Toss it out the window. And don't forget, depending on the age gap there's now double the diapers to change, meals to make, bodies to bathe and bedtime stories to read. It is a daunting task. But consider this: The nerves, the self-doubt and the questions about whether you are truly capable of being responsible for another living being have been mooted because you've already proven you're up to the task. You also have the advantage of hindsight. You know that no matter how tumultuous those first few weeks and months are, the sleep deprivation does end, your social life is not over, you will have some alone time with your spouse again, and normalcy — eventually — will return to your home.
Photo of the Stefani-Rossdales by Flynet; Photo of the Stone-Savages by Splash News; Photo of the Taylor-Stillers by Wire Image.
We're curious about what your experience has been. Did you find life with one baby to be easier or more difficult than life with two (or more)?