Adam Sandler, Jackie Titone expecting second child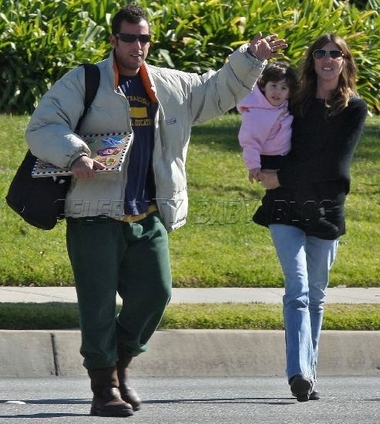 In an appearance last night on the Tonight Show with Jay Leno, actor Adam Sandler, 41, announced that wife Jackie Titone Sandler, 32, is 3 ½-months-pregnant with the couple's second child. The new baby will join older sister Sadie Madison, who just turned 2.
Adam also revealed that the first trimester was a difficult one for Jackie, who suffered from "all day" sickness, which he struggled to explain to Sadie.
She'svery sick, she's going through a lot. You women know the deal. My wifegets it very bad, she vomits a lot — morning, afternoon, the wholedeal. My little daughter is always looking at her and is nervous to seeher mom sick like that. So I had to try to relax [Sadie] and say,'Mommy's not bad sick. She just has something growing in herthat's eventually going to shoot out her vagina and take half yourtoys!' That relaxed her.

In the beginning, I would rub [Jackie's] back and go, 'It's worthit. We'regoing to have another beautiful baby, I love you, thanks for doingthis.' She's a good lady, my wife. She deals with the fact that I lookthe way that I look!
Jackie is due in mid-to-late November.
Source: The Tonight Show; Photo by Flynet
Thanks to CBB readers Dani, Jackie, Janelle and Stacey.