The Boom Boom Room Vendor Round up – Part 3
Hot celebrity moms each have their own styles and fashion tastes, but what seems to be a consistent favorite as of late — if not at times a 'must-have' — for them all is a trip down the eco-friendly, organic, and natural path. At the Boom Boom Room, there was no exception! Among the various vendors, many of the biggest hits with actress Constance Zimmer, Molly Shannon, and others were companies who went that little extra green mile. From making their items both with chemical-free ingredients and quality guarantees, to insuring their products were as earth-loving and healthy as possible, those with an eco-conscious edge caught celebrity's attention.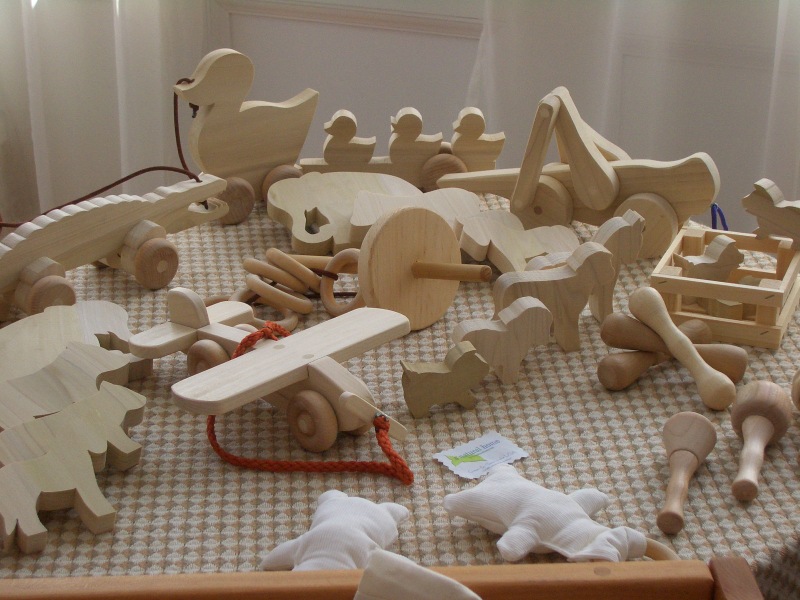 Take for example, A Natural Home. Run by two women who are looking to help people embrace the organic, natural way of living, the company focuses on simple yet sturdy and well-built furniture fit for your home. Their products — built by the Amish — promise to last for your lifetime and your kid's lifetime, and your kid's kid's lifetime, and … well, you get the idea. You can find any type of house furniture you're looking for — whether it's a table, a couch or even a hypoallergenic bed for man's best friend!
However, their focus at the Boom Boom Room were the future generations: the children! With a large assortment of wooden toys (pictured) — promised to be 100% sustainable wood and made with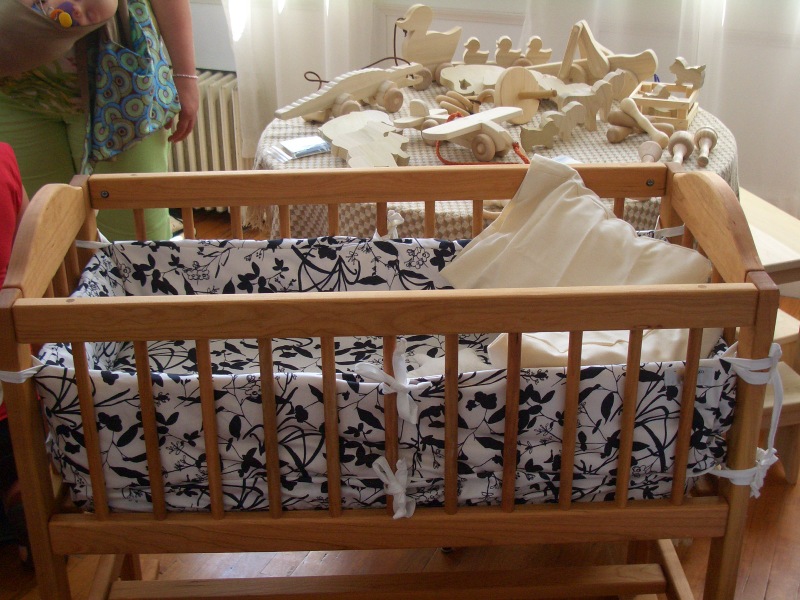 absolutely no chemicals — my son enjoyed some of their great samples and especially loved their wooden sheep made with real organic wool! Another great toy that looks especially fun is their Play Kitchen ($215) — a handcrafted piece that is made uniquely each and every time with the promise of (you guessed it!) 100% natural and toxin-free solid wood. And if you're looking to 'go-green' with your baby's nursery or your toddler's bedroom, A Natural Home also has beautiful bassinets (pictured) and toddler beds made out solid oak, maple, and cherry. If all this wood sounds like a strain on the planet, no worries. All wood used in the furniture and toys comes from protected forests, so trees will never be scarce.
Click below for more featured vendors!
I've seen lots of hair clips for little girls — and lots of promises to go along with them. Many claim their clips will never slip out and leave you with the 'hair-in-the-face' look seconds after you've groomed them for the day; unfortunately, that's usually exactly what happens. However, when I saw Bugalug at the Boom Boom Room, I was very impressed!
This very trendy, colorful line of hair accessories has developed a special slip-free technique for their barrettes by adding a silicon strip to the back, effectively holding the finest to the thickest hair in place. As for their headbands? They use a small plastic lock that can be adjusted to the width of any child's head; plus it's a 2-in-1 deal as all the headbands are made with reversible fabrics.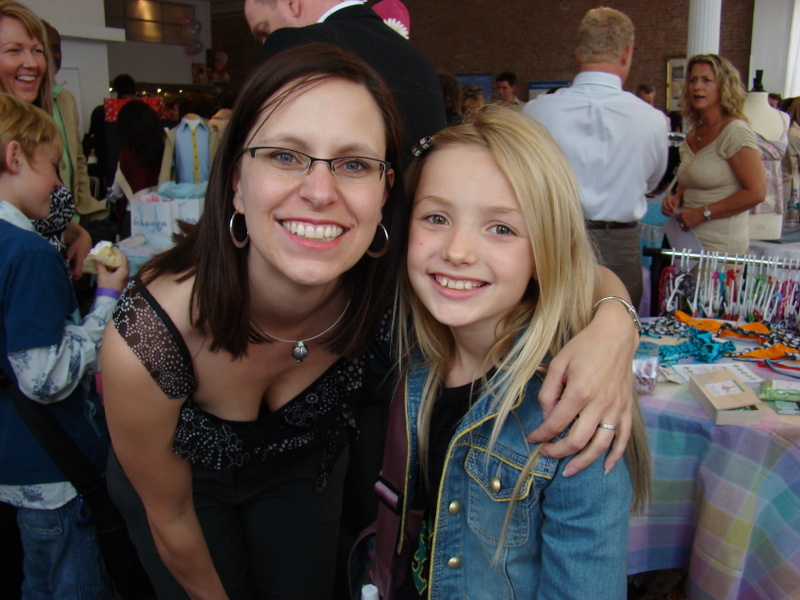 The founder of Bugalug, Sundi Hoffman (pictured with actress Peyton List), hand-selects both the fabrics that are used and the stay-at-home-mothers who put the clips together, as she hopes that more mothers can choose to stay with their kids and earn money simultaneously.
If you're getting a bit jealous of your little girl right about now — stop, because women can wear Bugalug too! Priding themselves on only using hip, trendy, and fashionable ribbon, you won't find anything too 'cheesy' or too 'cutesy' because Bugalug is geared for all ages.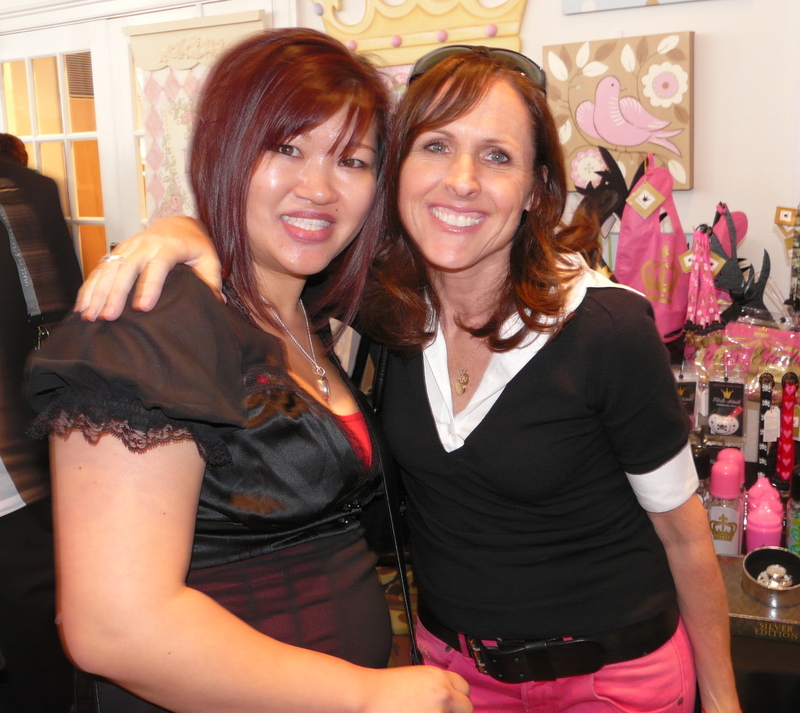 Calling themselves the "new kids on the scene," after their success at the Boom Boom Room, LAF Brand doesn't have to worry about skipping out any time soon! Their featured products at the event, the Roll-N-Go Rollable Diaper Bag ($60) and their bips and burp cloth lines ($8 – $10), were only a taste of what this company had celebs like Molly Shannon (pictured) and NY Mets Brian Schneider buzzing about.
We all know how boring it can be to carry around a frumpy looking diaper bag, but with the Roll-N-Go, any bag instantly becomes a cool hip diaper bag — without having to compromise your style! And their incredibly soft 'minky' style burp cloths? Simply heaven to touch. They're the kind of fabric that you just can't stop touching over and over and over again. I would know — my 20 month old now sleeps with the burp cloth!
Finally, but definitely becoming a big favorite, are their great bodysuits. Leave it to LAF to come up with a long sleeve and short sleeve shirt in one! Yep, you read it right — if your kid gets hot, you can actually remove the sleeves, and if the weather doesn't cooperate, just pop them right back on. Cool? I know. But what LAF (which stands for Lil' Angel Face) is most committed to is helping children smile — the company donates 5% of every sale to The Smile Train. A supporter of The Smile Train himself, Chuck Nice picked up a few signature LAF Out Loud shirts for his son as did many other celebrities.
CBB Deal: Save 10% at lafbrand.com with coupon code LAFOUTLOUD10.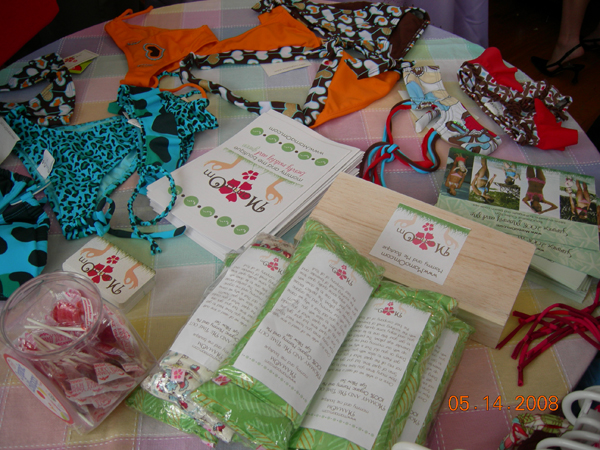 MamaOm, founded by MariaFer (pictured with Jane Notar and daughter Harlow) and Nena in Florida, is an upscale boutique that carries matching mother-daughter (and will soon introduce matching son!) apparel for moms looking for a fashionable, yet unique way to celebrate and indulge in their motherhood roles. The two women pride themselves on using only 100% organic and natural fabrics and will introduce a new line in the fall of 100% organic cotton clothing.
From adorable slogan tees such as 'Supply' ($24) for mom and 'Demand' ($20) for daughter, and 'Working Out' ($24) for mom matched with 'Personal Trainer' ($20) for daughter, mothers at the Boom Boom Room just couldn't get enough! Their biggest hit of the day? Their new line of matching mommy and me beachwear which includes bathing suits and cover-ups, both in an assortment of colors and styles. With celebrity mom (and dad! — NY Mets player Brian Schneider also picked up some suits and shirts for his daughter, Tatum) fans like Summer Sanders — who was checking out suits for herself and her daughter Skye Bella, 2 — and Jane Notar, who picked out suits for herself and her daughter Harlow, the bikinis went quickly and many more were put on special order.
Fashion is important at MamaOm, but so is helping the planet! From supporting Free Trade Labor to using recycle products to making their company as eco-friendly as possible, MamaOm is a great mix of what many moms love most: a healthy earth-conscious way to enjoy those shopping urges.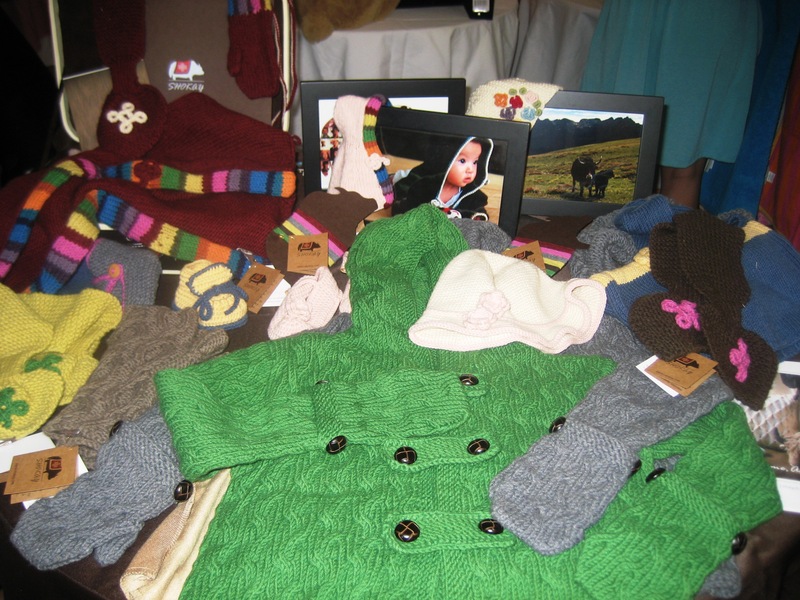 The majority of us can likely attest to wearing sweaters made out of itchy wool that were quickly pushed to the back of our closets, but have you tried clothing made out of fiber from yak? Judging from the great feedback on Shokay at The Boom Boom Room, you should! Since yak fibers are arranged in a waved mosaic pattern (unlike wool), the clothing is soft and cozy. There's so much about this company that gets me — plus a ton of other people! — excited that I'll start with their soft, cuddly, luxurious feeling apparel.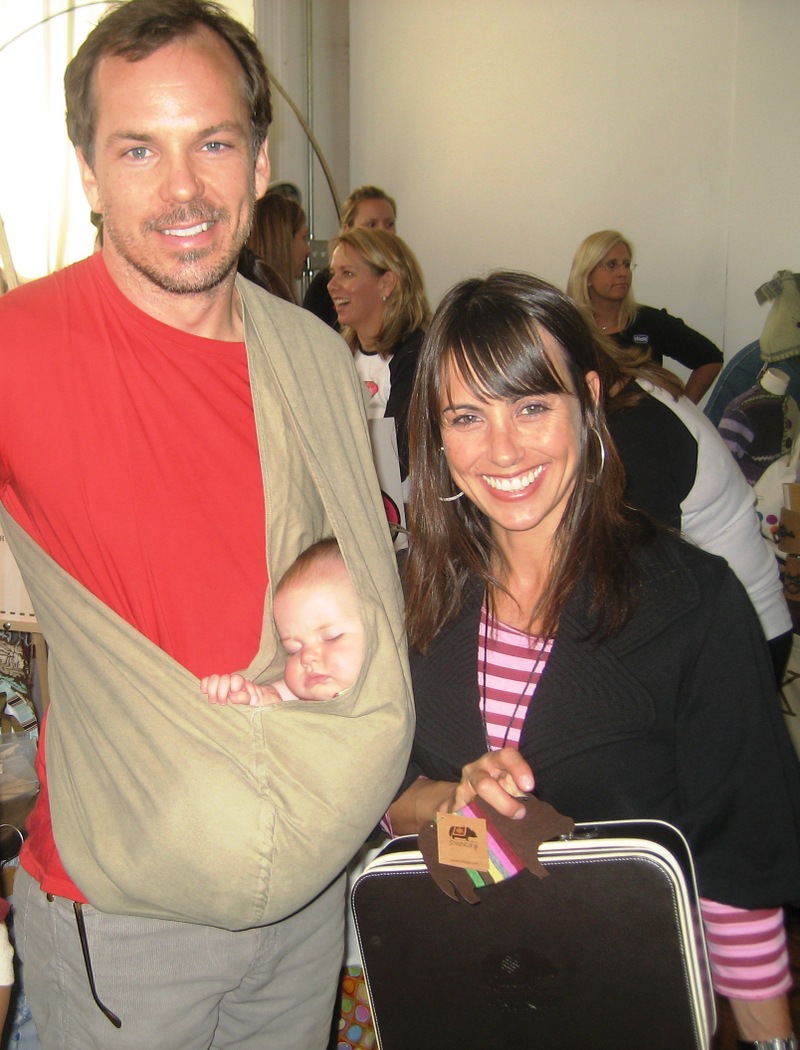 Gifting people with their cozy
Infinity Handwarmers ($60) and adorable little girl scarves ($35), Shokay managed to grab quite a few fans who couldn't get enough of their products — like Constance Zimmer (pictured with boyfriend, Russ Lamoreaux and daughter Colette Zoe, 4 months) who took home the Shokay suitcase ($45).
Even with pulling out all the stops to make their customers happy, Shokay does not compromise humanity and the common good of helping one another. Every piece of yak fiber that is used is hand combed by 260 Tibetan family herders, who benefit by carrying on their own traditions of raising yak and being able to make a sustainable living. Then that very fiber is sent to a Shokay-organized women's cooperative in Chong Ming Island, where all of those products that people are raving about are hand knitted. The end result? A whole line of adult and kids apparel and accessories that are definitely up-and-coming in the fashion world!
Check back tomorrow for another vendor round up from Missy. And if you missed our first two vendor posts, you can check them out here and here!