CBB's Top Registry Picks: Anya's 'must-have' baby items!
Every day at CBB we post tons of photos on our main site, along with the occasional fashion and gear information listed below, and great reviews of products that we love and recommend on our Reviews site. But, in all that, we have yet to tell you our top picks, or rather baby 'must-haves' — those few items that when our own kids were (or in some cases, still are) babies, we couldn't live without! And when the sleep deprivation kicks in and the baby won't stop crying, wouldn't it be great to already have a list of great products to help you along?
Whether it is helpful hints on dealing with babies who are colicky or some great pumps for breastfeeding, with the CBB Registry, hopefully those of you buying baby gifts — for your kids or for someone else — will have a better idea about what we consider great baby essentials. Over the next few days be on the lookout for registries from some of our staff.
Continue reading for Anya's baby registry!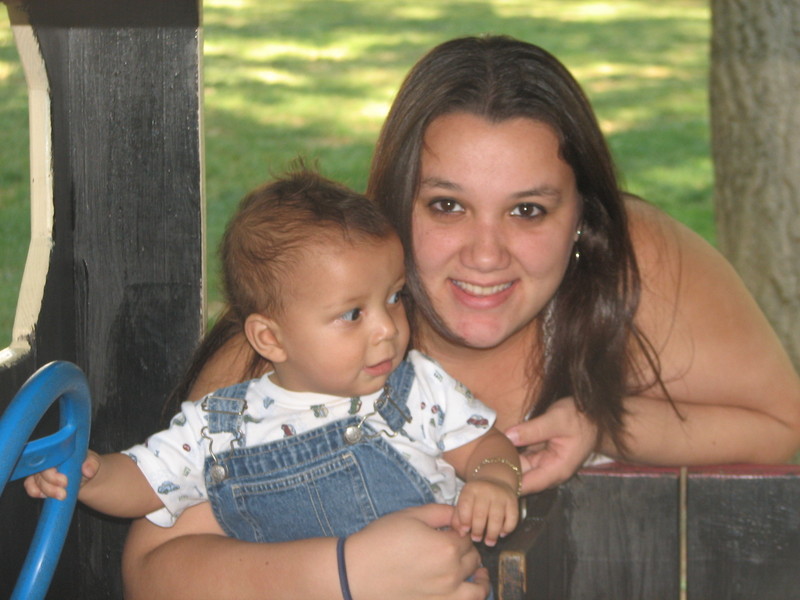 As the fashion/gear and Latino contributor, Anya, who is also mom to her 20-month-old son, Andrew, has probably learned more about the hottest fashion trends and the latest baby gadgets in the past two years than most people can imagine. From identifying who's wearing what and using what stroller, to trying to learn it all in the world of motherhood — her list is definitely a mix between CBB finds and product experimentation with her toddler!
Baby Bjorn Baby Carrier ($90) – I pretty much have spent so many hours on a plane in the last few years flying back and forth from the States to my home in Mexico that I wouldn't want to know how many total hours I've logged. Did I mention each time I was by myself — with an infant? (Who has now turned into a toddler!) As I struggle with carry-on luggage and fight those baggage claim belts, it's hard to pull out a stroller and steer that too, which is where my Baby Bjorn probably saved me from insanity! My son, who hated being in a stroller, would just be his mellow self in the carrier and take everything in, which was one less worry for me. (Read our Baby Bjorn review.)
Boppy Classic Pillow ($45) – My little three pound guy (pictured at right) refused to nurse — until I put him on his Boppy. He fit perfect on the Boppy when I was breastfeeding him and it helped support my arm too! Plus, when he got a little bit older, I used it for his 'tummy-time' and it helped him gain strength in his neck muscles.
Diapees & Wipees ($15) – When I was pregnant and for a bit after Andrew was born, I have to admit that I was actually excited to pack the diaper bag — but that excitement soon wore off. As he got older, lugging the diaper bag with me everywhere just got to be a big pain and most of the stuff he didn't even use. All I really needed were some diapers and wipes — and my Blue Disco Dot Diapees & Wipees! This little fabric pouch held a few diapers and a plastic portable case of wipes, plus got me compliments when I would pull it out in public on our way to the bathroom. My problem of wanting to take a small purse or tote, without a huge diaper bag, was fashionably solved.
CBB Deal: Diapees & Wipees is offering free shipping when you write "CBB Free Shipping" in the comments section, on their website, when making your purchase. Expires 6/30/08.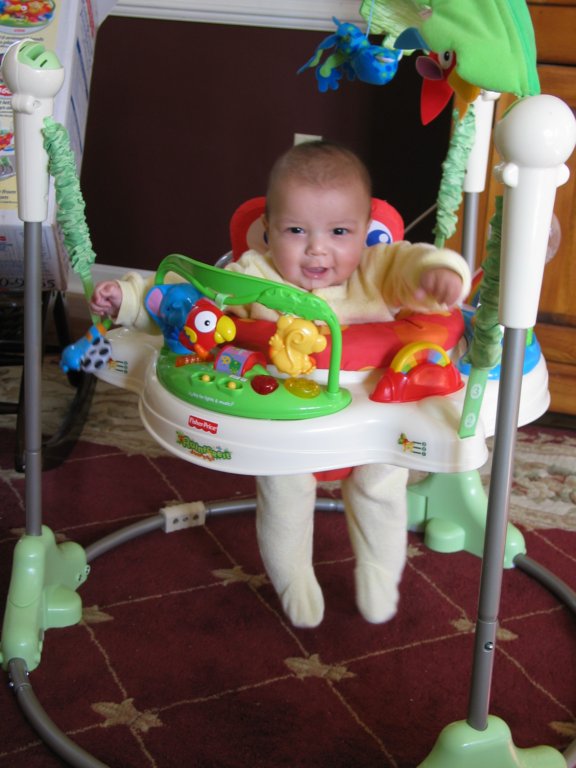 Fisher Price Rainforest Jumperoo ($79) – As a first time mom, I found it hard to keep baby Andrew happy and wash the dishes or take a five minute shower knowing he was busy playing, because, well, all he wanted was to be carried. That is, until I set him in the Rainforest Jumperoo — the best thing I have ever bought– when he was five months old. Not only did he let me take a shower and wash the dishes, but do about a million other things too while he was busy looking at the lights and listening to the different jungle sounds (that luckily come with a volume!) Once he got a little older and got the hang of bouncing, he would kick his legs so hard that he would get a better workout than I ever had time for! I even took the whole thing apart, packed it into my suitcase with me and took it back home to Mexico, where he used it until he was about ten months old — that's how much we loved it.
Huggies Little Swimmers ($10) – When you live on a very small island like Isla Mujeres, you're surrounded by beach and water just about everywhere you go. And when you have a toddler, that just creates temptation for him to splash in the water and make it a beach day every day! These water-resistent diapers were perfect for those long days at the beach so that my son didn't have to walk around with an inflated diaper looking like I hadn't changed him in about a week. Plus, he loved the cute designs — or maybe that was me!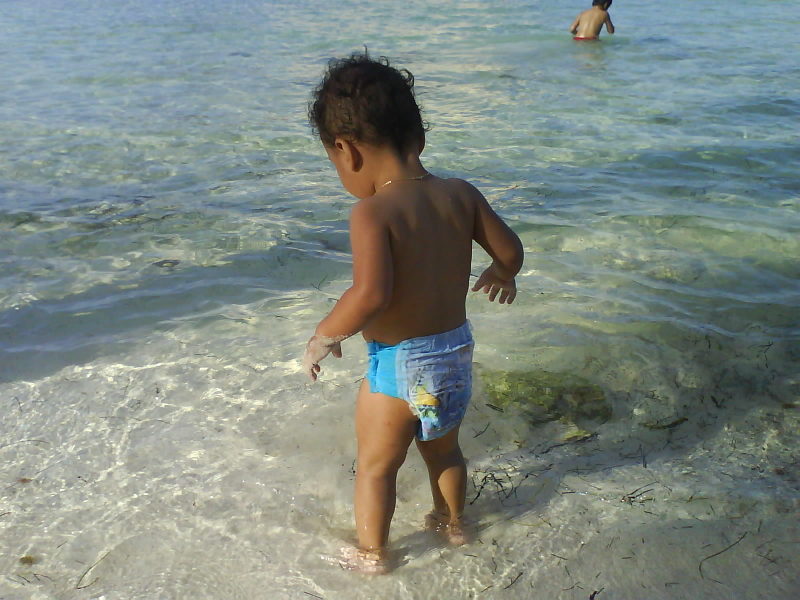 Medela Symphony Breast Pump (approx. $70/month to rent) – Since Andrew was born premature (almost 6 weeks early), his stay in the hospital was extended when he was sent to the NICU a few days before they sent me packing to go home. I was intent on breastfeeding and thanks to this amazing pump, it was possible even though my little guy wasn't with me. After spending 14 hour days at the hospital with him, I would go home to pump so that he would have breastmilk when I wasn't there to give it to him directly. I liked the pump because it was very quiet — sometimes too quiet! The humming noise of this pump usually helped put me to sleep! One of the best features though was the little cart that came with it so I could wheel it around whereever I needed it.
Robeez ($28) and pediped ($30) – If I could buy these shoes for the rest of my son's life, I would probably be guilty of doing so. They were so fast and easy to put on and I never had to worry about his shoe falling off! And when Andrew was little, and I thought too little for some of those clunky baby shoes, I absolutely loved these soft sole slip-ons because I knew he had shoes and socks on, and if he wanted to get down and try to walk around, his feet were safe.
CBB Deal: pediped is offering free shipping on your order with coupon code "hapr08". Expires 12/08. AND Robeez is offering free shipping with coupon code "robeezcbb". Expires 05/25/08. (Read our past robeez and the pediped reviews.)
Check back tomorrow for Sa
rah's baby registry!