Christina Aguilera on pregnancy, fitness, nursing and motherhood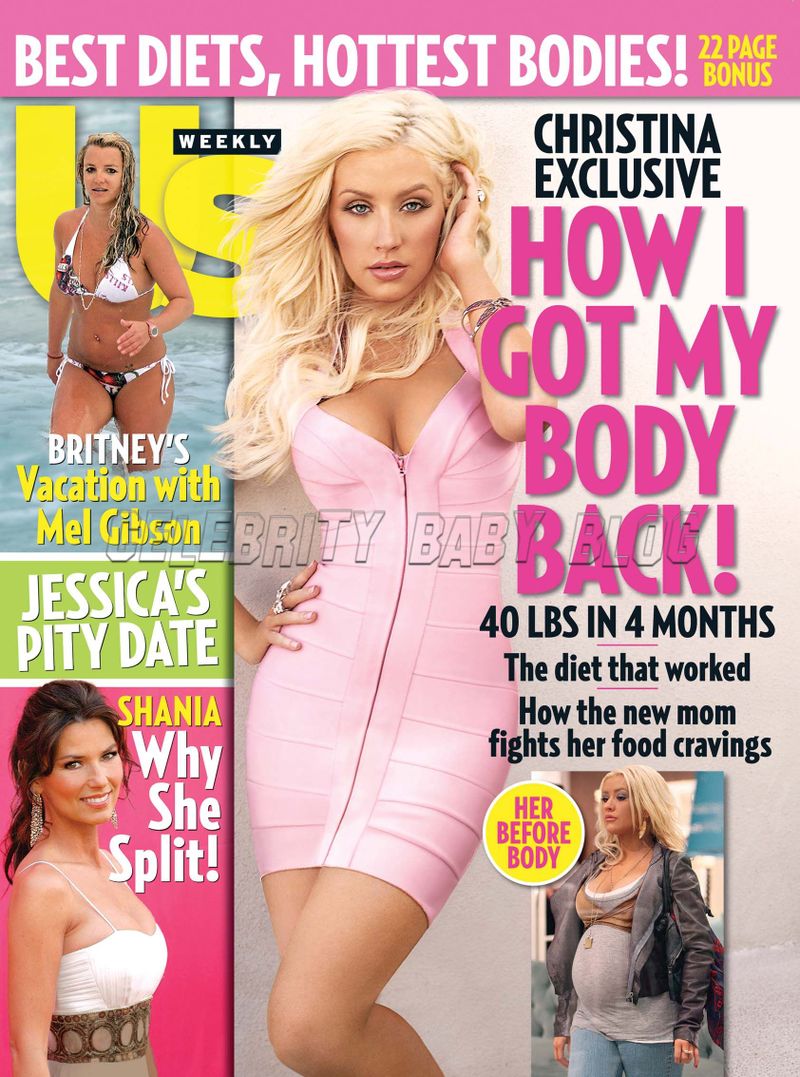 Feeling "a sense of accomplishment" after dropping her 40 lbs of baby weight, songstress Christina Aguilera sat down with Us Weekly on May 18th to discuss how she did it, her past cravings, seeing her shape change while pregnant, nursing, and 4-month-old Max Liron's latest developments.
Click below for the interview highlights.
On seeing her body change during pregnancy:
I couldn't help but embrace it. You just want what's best for your baby. I tried not to get carried away, but I wanted to splurge a little.
What she indulged in:
Oh, my God, candy! I had a huge craving for candy toward the end of thepregnancy, from Starbursts to Skittles. I actually took a picture of myself withmy big belly in a little lingerie top, surrounded by bowls of the candy I like.
On her fitness and diet plan:
Christina started doing a mix of cardio, weights, and stretching for 90 minutes, five times a week in late February with her longtime trainer, Tee Sorge. Six days a week, Christina follows a protein, veggie, and whole grain-heavy diet; since she is breastfeeding, she consumes at least 1770 calories to keep milk supply steady. Sundays are her cheat day — Christina loves chili cheese fries!
I started out slow, just listening to my body and making sure I didn't overdo it. I feel a sense of accomplishment. I'm tighter and stronger. As you feel your body getting stronger, you become more motivated to be in the gym! It doesn't matter how big or small you are. When you're defined, I think it's sexy. I exercise because it makes me feel good. It's not just a physical thing.

It's more mental than anything; food is comforting. Like when I first got engaged, I gained weight. We call it the "love chub." When you're happy and you're cozy just chillin' in bed together on a day off, what do you want to do? Cozy up with cozy foods.

For me, it's a baked potato and a steak. And I truly love southern comfort food: fried chicken, macaroni and cheese. I'm not into depriving myself; rather, I limit the bad things that I like. I watch my carbs and starches. It was a huge thing to switch to wheat bread — I love my white bread! — but I did it!

The toughest thing is not having what you want when you want it. I'm a night owl and a late-night snacker, so it's hard not to reach for a comforting bag of chips.
On support from husband Jordan:
Even when I have a cheat day and say, "Ugh, I shouldn't be eating this," he'll say, "Honey, you look amazing. Just eat it." So much of people's body issues [are] mental. I have positive people around me, and my husband is really supportive. One of the most important things to me is staying positive and raising a child with a great outlook and self-esteem.
Christina, who watched her mother be abused at the hands of her father as a child, shared that in choosing Jordan, she hopes to have insured that her childhood experiences are something Max will never witness.
In making the decision to marry whom I did, I knew that my husband is not the type to have violent tendencies, and he would never hurt me. We had many conversations before, and I really ensured that I put myself in the position to marry someone who was not going to, in any way, shape or form, repeat the cycle of abuse with my child and what I had endured as a child.
On being back in her jeans:
Yes, it's just a matter of feeling as good in them as I did before! My goal was to get back into a pair I love from Hysteric Glamour. I fit into my size extra-small, but I notice I have different hips than before — though I embrace the new curves, especially above the waist!
On that chest everyone is talking about:
It's kind of hilarious! I've never fit into an E-cup before. I lookat my husband and go, 'Guess what size this bra is?' And when Itell him, he's just amazed. We keep the tags that prove it, to lookback for memory's sake!
On nursing:
It's something that I'm playing by ear. I didn't know going into it if I was going to love it. He was a natural latcher, right out of the womb. It made the job very easy for me, but also I love the bonding sense of it. I'm a working mom, so after a hard day, I get to spend that time with him where I feed him and sort of be his source of life. It's an incredible feeling.
Max's latest accomplishments:
When you tickle him or make a funny face, he's very reactive. He has those hearty giggles, and it's amazing to see. And he's really responsive to music; I guess it's in the genes!
On the best part of being a mom:
Oh my God, seeing what you and the one you love have created in front of you: a living, breathing person.
More kids?:
Absolutely. I can't tell you when, as I'm not into planning things like that. Maybe around the next tour!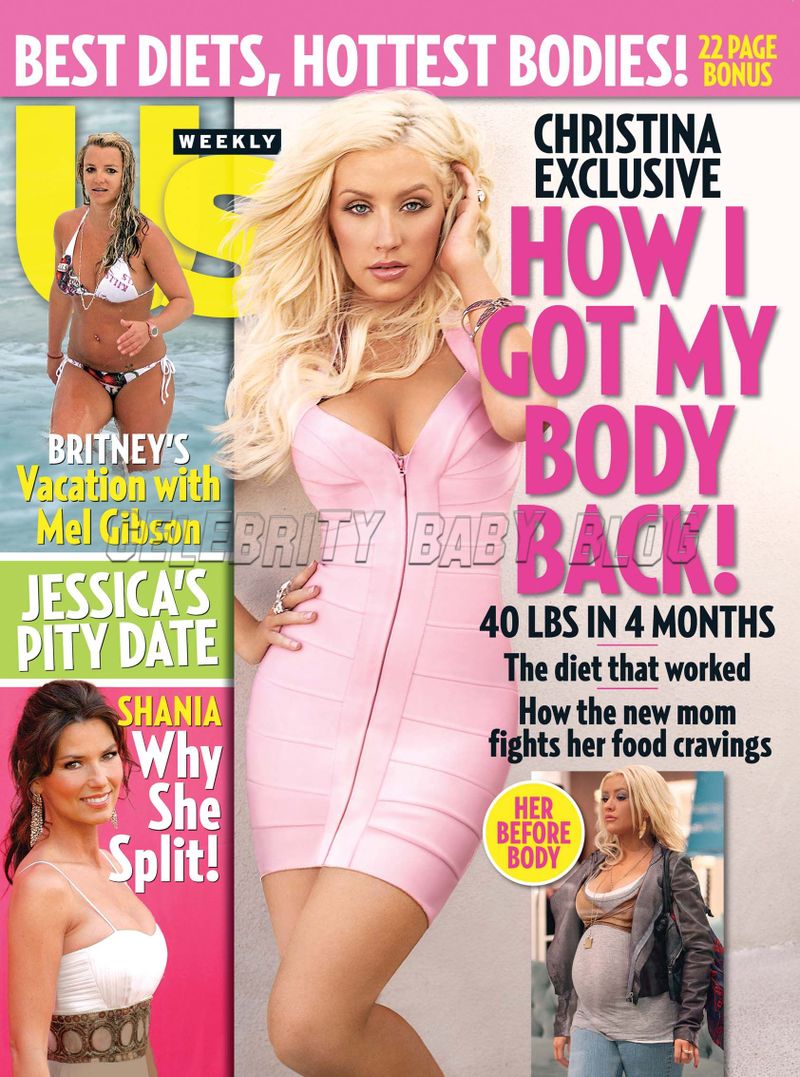 Source: Us Weekly, June 2nd issue