Update: Contest: Skimbaco sends goody-basket for the Cruise family to enjoy
Update:The winner is Andrea, who said if she won the $100 gift certificate, she would use it to buy
CBB Deal: Use coupon code Suri15 to save 15% on your purchase at skimbaco.com. Expires 6/30/08. As always, free shipping.
---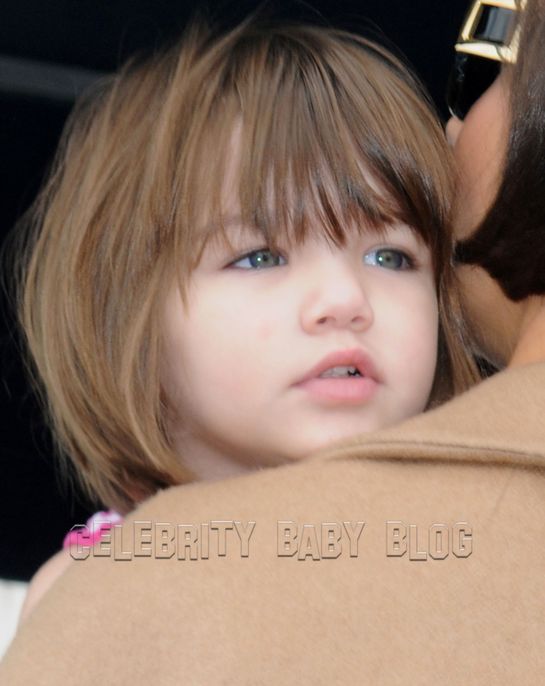 In a recent exclusive interview with Tom Cruise, Oprah was privy to little Suri Cruise's cubby hole in their Telluride, Colorado home and showed viewers Suri's adorable Monkey Toes Little Lady Mary Janes. Now, we've got the details on the company behind sending her those shoes (and their matching socks!) plus the enormous gift basket they came in!
Details below!
Tom, Katie, Isabella, Connor, and Suri were showered with gifts recently when Skimbaco,a Colorado-based company, sent them a big goody-basket (pictured right)for everyone in the family to enjoy! The basket was filled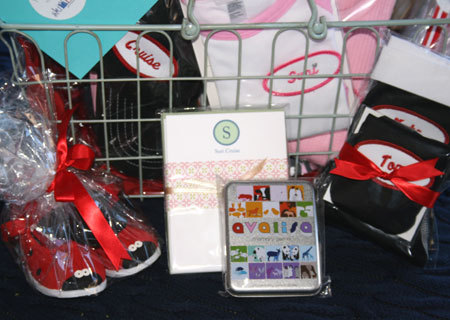 with special gifts, many of them including thoughtful personalized touches, from the Blume Girl personalized baseball caps with Cruise embroidered on them, to the Posh Peacock stationery— everyone received their own with their initial and Suri receivedsome with her initial and little printed cupcakes– right down to the DeAnna Cochran original jewelry that was custom made with the added touch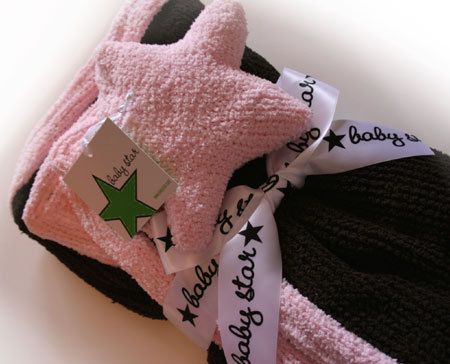 of each person's birth stone.
Wait…there's more. Skimbacoalso added in some great new clothes for Suri, who's becoming quite thefashion icon. Suri will be able to swirl around in her Kaia Canales' silk poppy dress, dress warmly for a night on the town with her Peggy Velvet coat (or wrap herself in the great Baby Star Swaddler Blanket they included, both pictured), and have lots of play time with her adorable Pluto tees. What more could a girl ask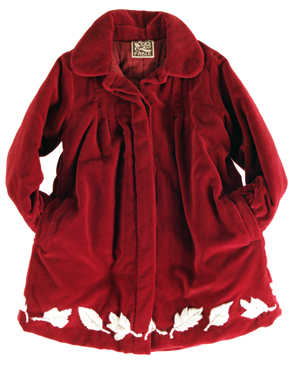 for?
And finally, for those Cruise family nights, Skimbaco even included the Avalisa memory game for everyone to enjoy!
The Cruise family goody-basket from Skimbaco:
Avalisa Memory Game ($18)
Baby Star Swaddler Blanket in Chocolate and Pink ($50)
Blume Personalized Products; Suri received two pink Blume girl tees($40), Katie got a black thong with "Tom" embroidered on it ($22), andTom received black boxer briefs with "Kate" embroidered on them ($30).
DeAnna Cochran original jewelry; Katie received Jackson's Leaf IINecklace with her birthstone ($310), Suri got Jackson's Leaf I Necklace($210), and Tom got Anthony's Wish Man's necklace ($240). Isabella andConnor also received necklaces from Anthony's Wish.
Designer Kaia Canales' Fable A wendy silk poppy dress ($110) and Peggy velvet coat ($104)
Monkey Toes Little Ladies Mary Janes ($29) and ladybug socks ($6)
Pluto Tees; Owl, Birdie, and Butterfly ($25 each)
Posh Peacock Stationery; Suri received some with cupcakes and herinitial and the rest of the family got their own with their initials
Photo by Splash News.
CBB Deal: Use coupon code Suri15 to save 15% on your purchase at skimbaco.com. Expires 6/30/08. As always, free shipping.

Enter to win a $100 gift certificate to skimbaco.com. Email the following info to celebritybabyblogATgmail.com (be sure to replace AT with @).
Your full name, mailing address, and email address.
If you win, what would you spend the $100 gift certificate on?
Make sure you put "skimbaco.com" in the subject line in order for your entry to be counted.
Any entries that don't include all of the info will not be counted. The contest closes Friday at 7 am EST. (For terms & conditions, click here.)