Update: Contest: Enter to win Medela's hands-free Freestyle breastpump!
Update: The winner is CBB Reader Anna Marie who said, "I normally pumped standing at the kitchen sink (the hand pump leaked). With baby number four due in October a "real" breast pump would be really nice! If I could pump "hands-free" I would probably do many things! Hold my baby; read to my older kids, read Celebrity Baby Bog :), peel potatoes for dinner…gosh, the possibilities are endless!"
---

In developing its newest breastpump, Medela spent five years of research and hundreds of hours talking to health professionals and observing more than 1,000 mom-testers. Medela heard what today's busy mom desired and created the Freestyle® breastpump — the industry's first hands-free, double-electric, rechargeable breastpump.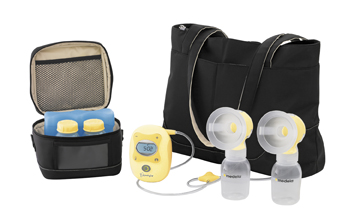 Freestyle weighs less than a pound so it's truly portable, yet it's powerful enough to empty both breasts simultaneously; offers an easy, intuitive setup for hands-free pumping; provides a long-lasting rechargeable battery; has a programmable memory feature, built-in-timer and bright LCD screen; and is contoured to fit mom's hand.
Freestyle also incorporates Medela's research-based 2-Phase Expression® technology, scientifically proven to mimic babies' two-phase sucking pattern and allow for more milk in less time. With Freestyle, mom can pump hands-free and check email or talk on the phone. She can also walk around and hold her baby. Or she can forego the hands-free option and hold the breast collection kits. Mom has the freedom to choose.
Freestyle's hands-free accessories attach to most nursing bras and the motor can be worn on the waist with the adjustable waist belt. And Freestyle comes in a stylish black tote —although it can be easily carried in your favorite bag.
Another benefit: Medela's breastmilk bottles and all components of Freestyle that come into direct contact with breastmilk are made with BPA-free polypropylene plastic.Freestyle is available at specialty retail stores and through healthcare professionals. To find a location near you visit www.medelafreestyle.com.
Enter to win a Medela Freestyle ! Email the following info to celebritybabyblogATgmail.com (be sure to replace AT with @).
Your full name, mailing address, and email address.
About how many hours of pumping time per charge can mom get with Freestyle? (Hint: visit www.medelafreestyle.com for the answer.)
Do you currently use a breastpump? If so, which one and did you purchase it new?
How often do you pump per day? Where do you pump?
If you were able to pump hands-free, what would you do with your hands?
Make sure you put "Medela Freestyle" in the subject line in order for your entryto be counted.
Any entries that don't include all of the info will not be counted. The contest closes Friday at 7 am EST. (For terms & conditions, click here.)