The Boom Boom Room Vendor Roundup – Part 2
Moms are always superstars in the eyes of their children, it's true. But in the days and weeks after they deliver, it's nice to be treated like a superstar, too. For all the joy it brings, new motherhood can be tough — from engorged breasts to sleep deprivation to the shocking realization that your body is (likely) forever changed, it can throw even the sanest of us for a loop. At last week's Boom Boom Room, however, it became clear that help is definitely on the horizon. Many vendors exhibited products that are geared towards mama care, and we've chosen to highlight a few of our favorites below.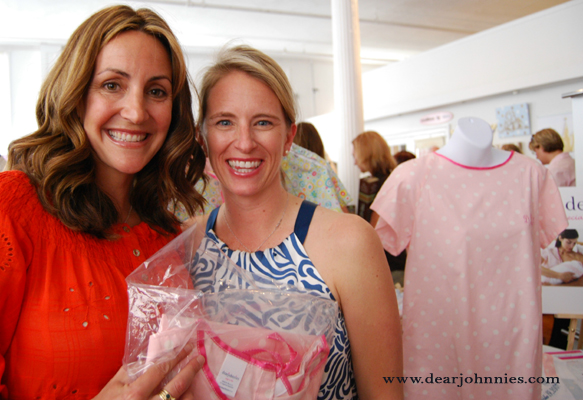 Let's start at the beginning — delivery day! No need to worry about exposing your 'assets' while pacing the halls of labor & delivery, because dearjohnnies has you — quite literally — covered. Created by founder (and mom of 3!) Rachel Zinny (shown at left with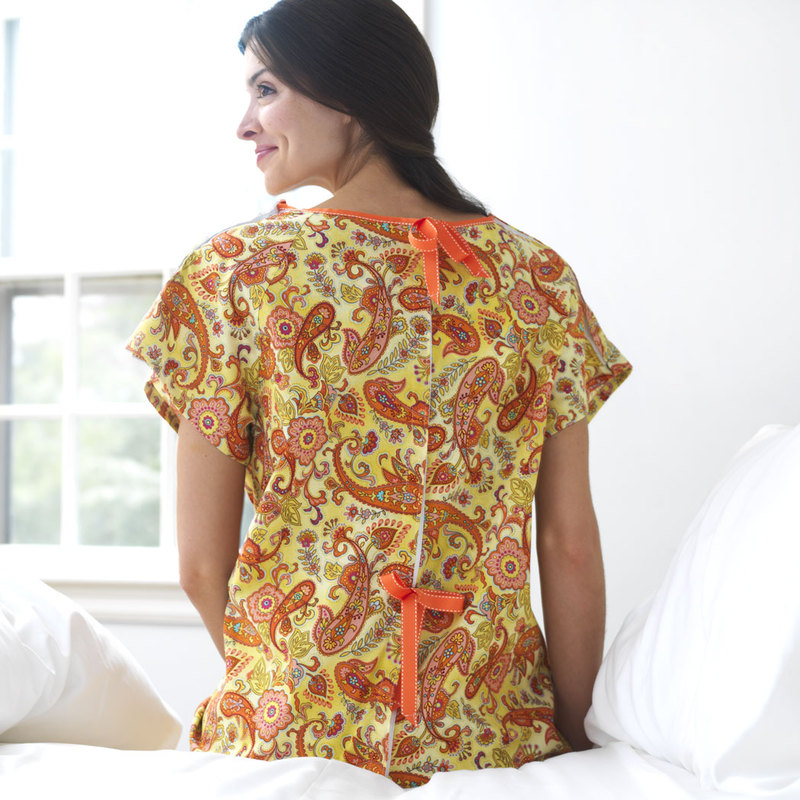 Summer Sanders), we've reviewed this Wellesley, Mass.-based company before, and were thrilled to see that Rachel has kept up the good work since we caught up with her last. dearjohnnies unveiled its new Gramercy line of hospital gowns at the Boom Boom Room, and the new prints — including the Lola, the Ava and the Pia (each $72; Ava shown at right) — are quite simply adorable. They'll be available online July 1, but if you simply can't wait you can order one now by calling dearjohnnies at 617-320-9884. It's an easy way to feel extra special on what will no doubt be the most special day of your life — the day you become a mom! It's no wonder Jennifer Garner, Tori Spelling and Mariska Hargitay are fans.
Exclusive for CBB readers: Save 20% off your order at dearjohnnies now through June 30. Discount cannot be combined with other promotions or discounts and will be applied as a refund after original transaction has been processed. Readers must put code CBB20 in special instruction box upon checkout to receive the discount.
For more from the event, click 'continue reading.'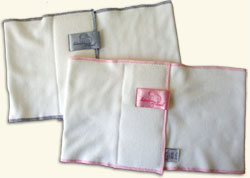 If you've ever taken a shower with engorged breasts — or even worse, mastitis — you know the pain can be excruciating. Shower Hug ($27.95; see photo at right) to the rescue! Owner Alaina Tonelli started the company after she suffered through one-too-many painful showers following the birth of her first child. A band of knit terry velour, the Shower Hug wraps around your chest and is secured with Velcro. Wear it in the shower to provide gentle bustline support, to protect your sensitive breasts from the water as well as to protect your nipples from direct contact with soap and other chemicals that can bother a breastfeeding baby. When you're done, simply wring out the excess water and hang it up to dry. Belmama & Cherub, which makes the Shower Hug, happily provided samples to nursing mom Summer Sanders, as well as expectant mom Leslie Segrete of TLC's While You Were Out.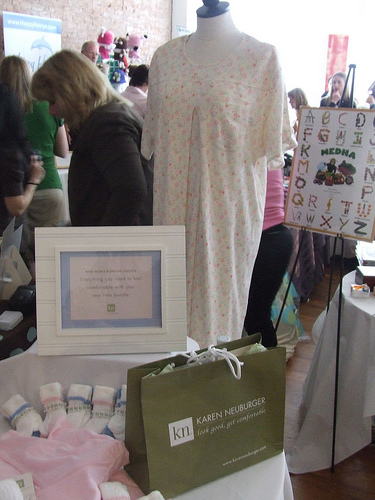 I had terrible swelling in my feet and ankles for two weeks after the birth of both my boys; Shoes were out of the question and most socks were off-limits, too. At the Boom Boom room, however, I think I found something that would have worked perfectly. San Francisco-based Karen Neuburger was on hand, exhibiting their latest offerings in the world of sleep and loungewear. Their chenille socks are in all honesty the softest pair of socks I've ever felt; Even better, at the Boom Boom Room they were paired with a matching set of infant chenille lounge socks ($16 for two pairs). Perfect for some mommy-and-me bonding! Wearing them now has me in heaven — I can't imagine how great they would have felt on my swollen, aching postpartum feet.
Karen Neuburger also has a full line of maternity pajamas that are every bit as luxurious, but what got me really excited is the upcoming launch of their brand new hospitalwear nursing gown (see photo above-left). If you're an expectant or breastfeeding mama, you'll want to snag one of these when they become available.
Exclusive for CBB readers: Save 10% on any purchase at Karen Neuburger with code CBB0508.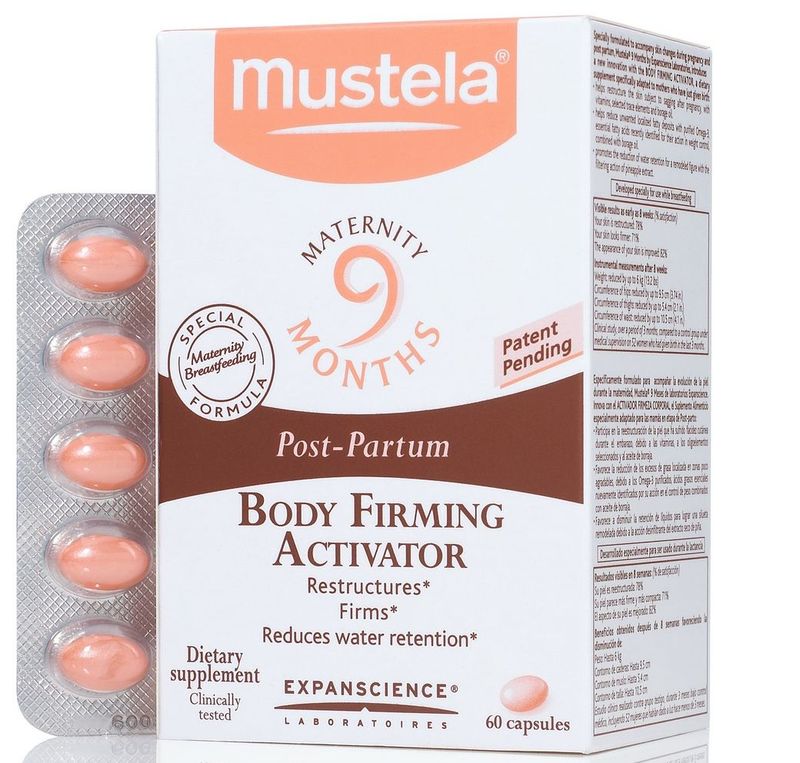 The jelly belly phenomenon immediately after giving birth is something you can't really fathom until it happens to you. The good news is that most of the flab does eventually go away on its own, but in order to truly restore your skins' elasticity sometimes you need a little help. Boom Boom Room attendee Constance Zimmer — who admittedly looked pretty fabulous last Thursday with boyfriend Russ Lamoreaux and baby Colette Zoe, 4-months, in tow — now knows that if she needs that help, she can find it in Mustela. The skincare guru has a new body firming activator ($39.99 at BabyCenter.com; see photo at right) from its 9 Month Maternity product line; It's the first dietary supplement of its kind, helping to restructure saggy skin while reducing localized fatty deposits and water retention in the process. The best part of all? It's totally suitable for breastfeeding moms.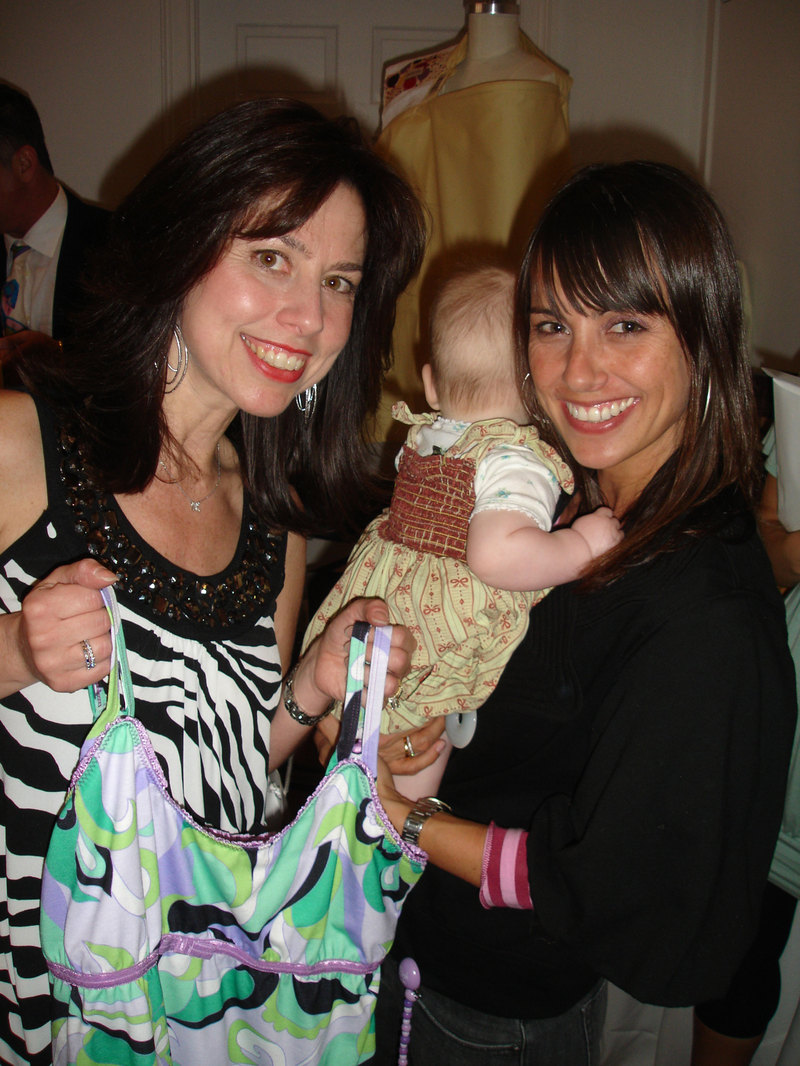 The Boom Boom Room was bustling with vendors seeking to capitalize on the demand for breastfeeding-friendly fashion, and one I really liked was Larrivo. Halle Berry recently received some items from Larrivo and thanked the New Jersey-based designer for "helping to make breastfeeding as sexy as possible." Rachel Weisz, Elisabeth Röhm and Kim Raver are also fans. Larrivo had a full clothing rack of camisoles ($59 – $63) on hand last Thursday for all the pregnant and nursing celebs who visited the display, and they were surely pleased with what they came away with.
Constance Zimmer (shown at left with Larrivo owner Loretta Schneider) chose a cami in a great Pucci print called Sophia in Larrivo's new tunic length. She also scored a coordinating black Ella shrug jacket ($44) and Dakota drawstring pants ($48). I found Larrivo's nursing tops to be colorful and fun but still fully functional at the same time, featuring lots of stretchy, breathable fabrics and hidden snap closures.
Exclusive for CBB readers: Save 10% and enjoy free shipping on your entire order at Larrivo with the code CBBLRV2008. This offer expires, quite appropriately, 9-months from today!
Check back tomorrow, when Anya will be bringing you some more of the great new products showcased at last week's Boom Boom Room event.