CBB Exclusive: Best for Babes™ interviews fitness superstar Gabrielle Reece about breastfeeding
by Bettina Forbes, CLC, and Danielle Rigg, JD, CLC, Co-Founders, www.bestforbabes.com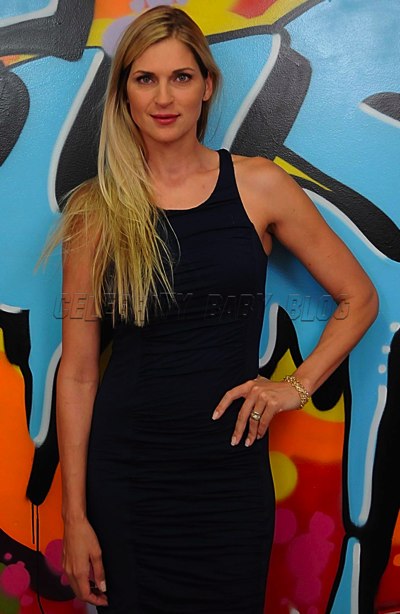 Named by ESPN as one of the world's sexiest athletes, Gabrielle Reece has been a role model to many women and is admired for her incredible strength, tenacity and femininity. Gabby is a hands-on mom and has a hot career: she is a professional athlete, model, sports presenter, Nike™ spokesperson, and Yahoo! health writer, and she has several new fitness videos to help pregnant moms get and stay strong. Yet, she still manages to stay grounded and put first things first.
Best for Babes (BFB), a non-profit dedicated to changing the perception of breastfeeding and revealing and removing the Breastfeeding Booby Traps™, is thrilled to have Gabby Reece as the first BFB Breastfeeding Celebrity Role-Model.™ Because so many women are being set up to fail, despite their best intentions, we are working with celebrities to benefit new moms—to inspire them, cheer them on, and help educate them about the barriers, myths and misinformation that trip women up. BfB is putting pressure on the barriers, not on the women who are trying so hard to succeed!
In this interview, Gabby generously shares personal and intimate details about her breastfeeding experience. We caught up with Gabby while she was nursing her second daughter, 4-month-old Brody Jo (she is also mother to 4-year-old Reece Viola and 12-year-old step-daughter Bella). At the end of the interview are BfB's key tips that you can use to make breastfeeding work for you (footnoted like this). Click Continue Reading for the interview!
Photos: Jamie McCarthy/WireImage.com, Splash News, Andy Fossum/Startraks, Frazer Harrison/Getty Images, licensed for use by Celebrity Baby Blog Inc. on celebrity-babies.com
Note: Please keep your comments limited to those specifically about this interview, not our lack of coverage of bottlefeeding.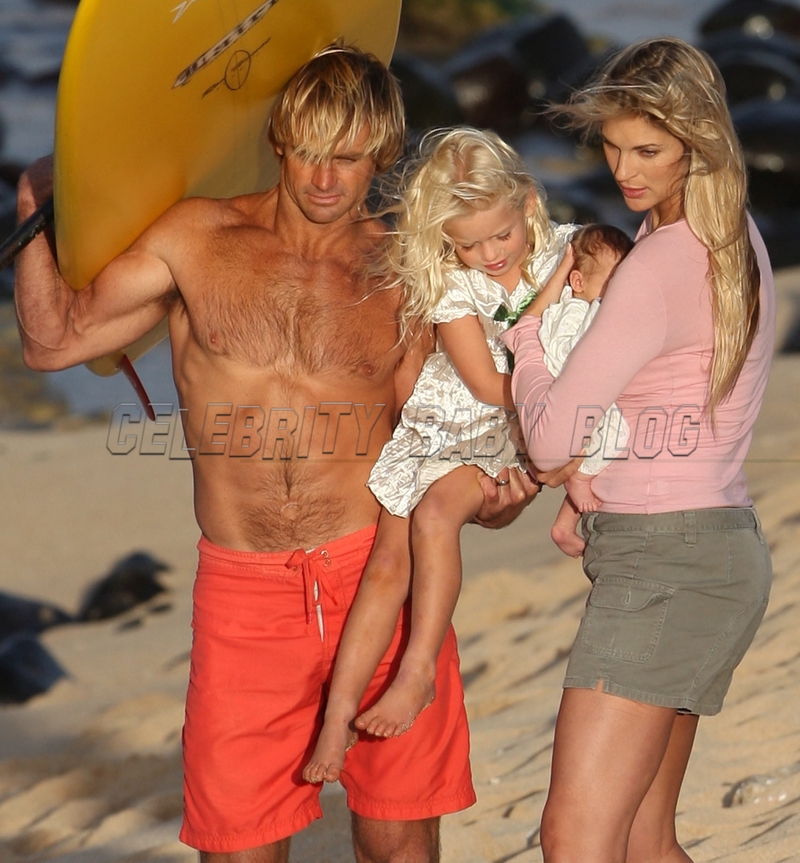 Before you had kids, did you have any exposure to breastfeeding?
To be totally honest, when I was in my mid-20's, I only had onefriend that I was close to that had a baby. At that time, my perceptionwas that it slows you down and I didn't really connect to it. (1)
So what changed, after your first child was born?
My motivation has always been health — eating healthy andtaking care of myself. When you are about to become a parent, you havethis idea that any way that you can give your child an opportunity tobe healthy, you want to do it, and because it is so logical to me,again, that it's from nature, the same as the food that I try to eat,it just made sense to me.
Then as I became involved with[breastfeeding] it became about a bunch of other things — the bondingtime, for example. Sometimes it's not easy because you're the only onewho can feed the baby — at first. I did feel if I was able, and mybaby was willing, it was a responsibility that I welcomed. It justfeels like, in a sense, when [I'm breastfeeding], that on anintellectual level, on a cellular level, on a spiritual level, it makesa lot of sense to me.
And it's an opportunity that is fleeting, it's a really shortwindow, they grow and they're out of here. So for me, the breastfeedingwas really a discovery. Quite frankly I sort of thought, oh god, if Ican get through these six months, because I was really committed to thehealth idea, and then it turned out that I breastfed my first child for23 months. (2)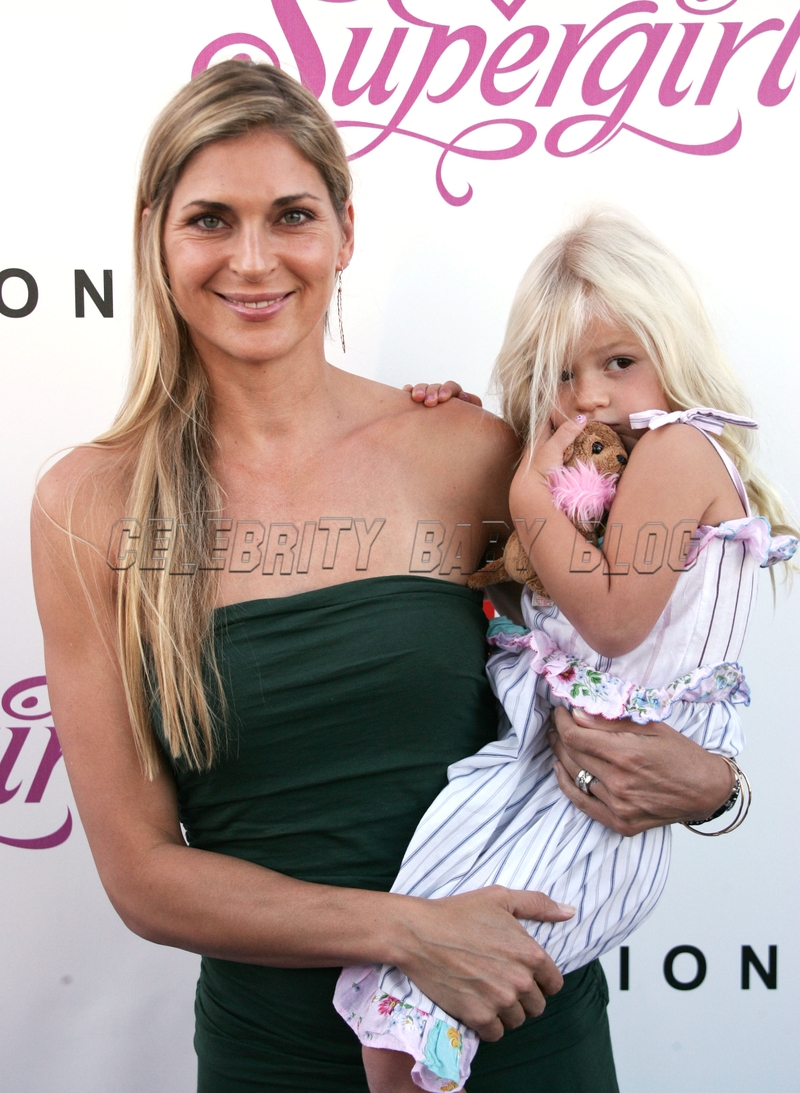 Did you do anything to prepare yourself for breastfeeding?You're obviously extremely health and fitness conscious, but did you doanything like read up on it, or take a class?
No, not really, but I talked to my "honey line:" the women Irespect and admire and have confidence in. There's one thing I'm reallyadamant about, especially when it comes to childbirth, orbreastfeeding, is don't be around anyone who isn't sensitive orsupportive of who you are or what you're doing, so if you're pregnant,and you're self-conscious of your size, and someone says, "Wow, you'rereally getting huge," then don't be around those people. If someonesays, "Wow, the baby is growing really well, and you look great;" thenyeah, hang around those people!
If you're going to breastfeed, thenonly be around people who are going to support you and nurture you at atime when you are very vulnerable and you need to provide so much tosomeone else, this new little life. And be aware, because the differentpeople around us have such a huge impact, and you don't realize howthey can get to you … for example, if your sister disapproves, thatcan discourage you or affect you, and you can't have any of that aroundyou.
And I don't even care if it's your own mother; until you find yourown way, I think you only need to be around people who are like, "Whatcan I do to help you? You're doing a great job, whatever it is"because you will kick yourself later, thinking "I really wanted to dothis, and I got frustrated because everyone around me wasn'tencouraging me so I gave up." And if it means temporarily suspendingrelationships, so be it. (3)
Did you need any help learning to breastfeed?
When my first daughter came, I did have a lactation consultantcome to the house one day. I think what happens, especially in thosefirst three days and for your first baby, is that you tend to worrybecause you're making colostrum only and you can't see it. But thensomeone said to me, well, is she peeing? It's important to have thereassurance of being told that if the baby is peeing, and the meconiumis coming out, that she is doing well.
(Rule of thumb: In the firstweek, exclusively breastfed newborns should have at least one urine forevery day they are old, i.e. one pee in the first day, two in thesecond, and they should eliminate the meconium by day 3-4 and stoolsshould transition from black to brown to yellowish brown at thatpoint.—BfB.)
These are little clues that you need to know, to know thatthe baby is getting something and it's okay, it's good! I'm a bigbeliever in not overthinking things, because I think within stillness,there are answers and an opportunity to live. (4)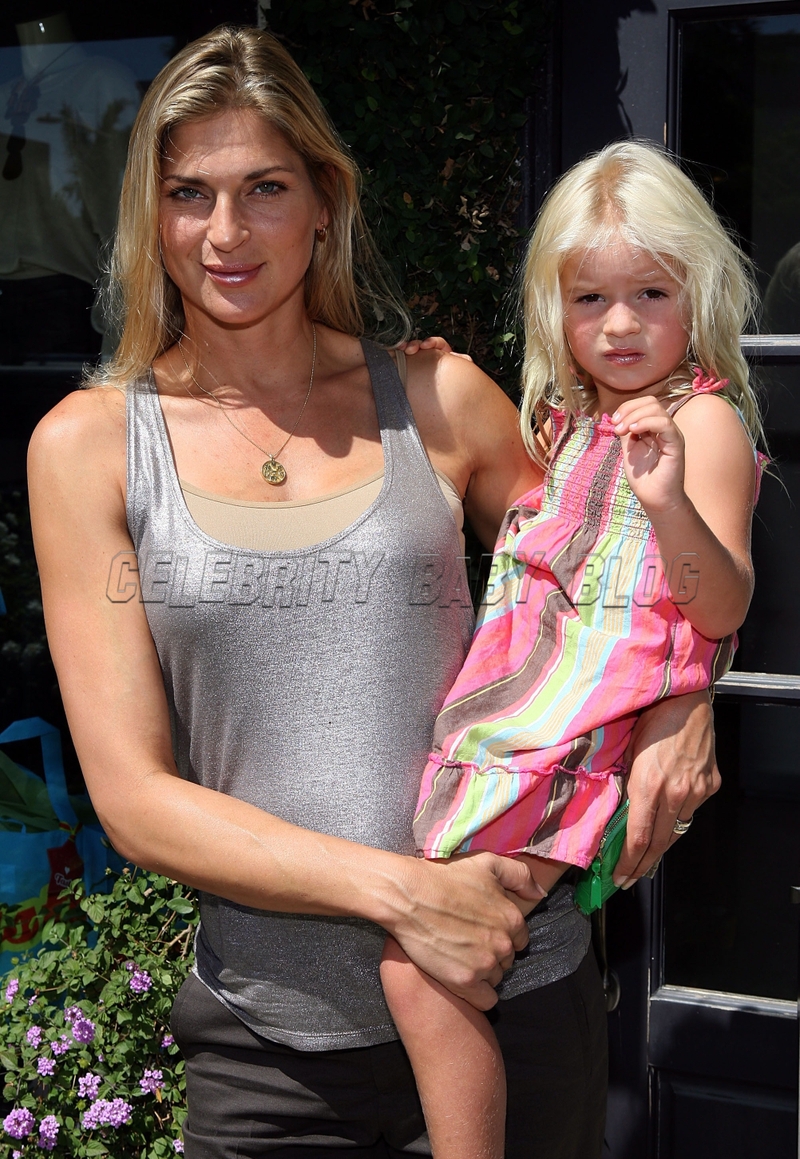 Was there anything about your breastfeeding experience that came as a surprise to you?
I really thought I was going to be less nurturing than I am andI was surprised how much I enjoyed it. There is nothing like having ababy with their little legs wrapped around you while you are nursingthem!
I think that it's become part of our culture, where we put ourkids in the stroller, and they zone out, and we zone out, and Iactually think that the more you hold them, the more you have themclose to you, the better for their long-term development. So I wasreally surprised at how much I enjoyed it, I didn't mind it, whenoriginally I had thought I'd put my time in and then I'd be done.Instead, it turned out that I breastfed my first child for 23 months.
People have this perception that your one and a half year old is alwayson the boob, when really they may only be on at night before bedtime,for comfort, and to continue to boost their immune system. As they getolder, they breastfeed less. I think more women need to realize thatwithin the time you are breastfeeding, there will be different stagesand degrees of it, that it is always changing, and that you'll be ableto have your freedom, and still be breastfeeding.
So in my experience,every woman should tailor it to her experience and her preferences,there are 100 right ways to do it. You can escape to go to the gym, youcan pump, go back to work. Some women want to slow down and sit in aquiet room and nurse; other women are on the phone and working andchasing two kids and getting it done.
So no hiccups or bumps?
Not really. But that's just how it was for me. I kind of thinkit's like other things I had experienced, when I have had a lot ofpredisposed negative emotions and anxieties, chances are, that's howit's going to go. And I didn't know how it was going to go, so it washard for me to have positive emotions — it's not like I was thinking"hurray, I'm going to breastfeed." But I was open to it. I think ifyou're thinking, I don't know, like, are they going to want me all thetime? Am I going to have time for myself? Are they going to pull mybreast, and blah, blah, blah … then you're doomed.
But I think ifyou're excited, if you can do that, then good for you — I wasn't one ofthose people, but I did say, okay, I'm going to try my best, and seewhat happens. And I have found it to be such a delightful experience!Also, it's
an opportunity, a lot of the time when your baby is upset,you can comfort them so easily. Of course, it's not the answer all thetime, but a lot of the time, it works out pretty well!
Yeah, it's like the magic bullet.
Right! My husband even told me that if he could give milk and calm the baby down then he would be worthy!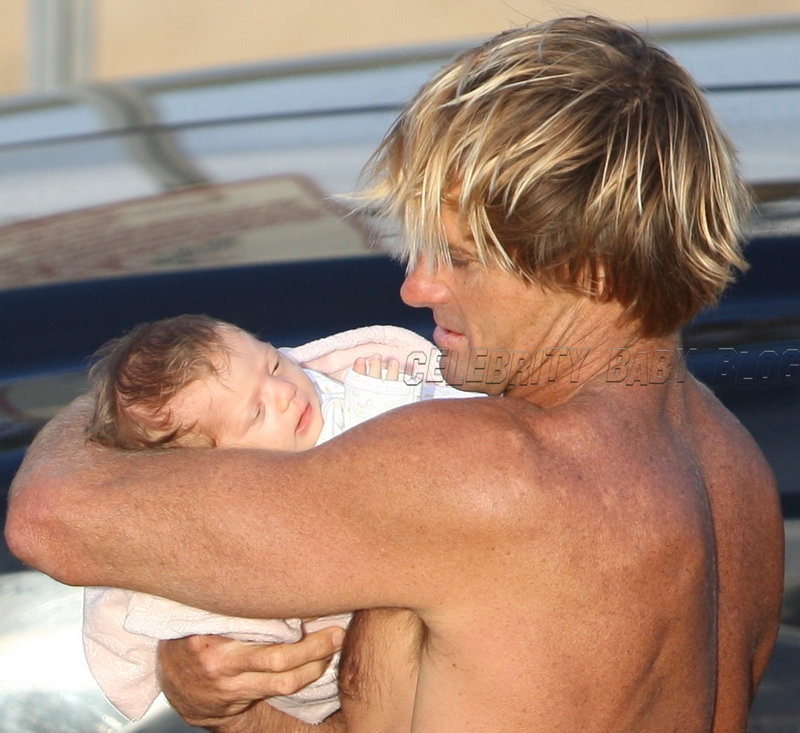 So your husband (pro surfer Laird Hamilton) was totally on board with it.
Yes, Laird was supportive. But I think women need to besensitive when they are nursing because during this time there is sucha strong mother/child bond. I think by making time to give my husband alittle undivided attention once in a while, it helped him be moresupportive of breastfeeding.
You know, a lot of men get neglected inthe whole birth process, the baby comes, it's all about the mother andthe baby, I've even seen people not congratulate the dad!
Having a babyis an adjustment for husbands too, and they might be thinking, whatabout me, and what about my wife, and when do I get her a little bit tomyself. I think it's important for women to be a sensitive to that. (5)
Wise words, Gabrielle. We had to go to relationship bootcampto learn a lot of that! Now, talk with us about how you fit fitnessinto your life while nursing.
Taking care of yourself is so important. If I were not strongfrom building workouts into my schedule while breastfeeding, then Icouldn't do things like walk around while Brody nurses discreetly on meunder a swaddling blanket!
With both kids, I started working out againat 16 days postpartum, but I treated myself with kindness, doing mildworkouts, because my fitness level was lower. After about a month, Iwas putting in 100% effort, and my capacity slowly increased, and nowit's back to where it was before I had the baby. But my body is alsoconditioned for that. Sometimes women are so eager to get back to thegym, and they try to work out as they had before, and they wonder whythey can't. After having a baby, you have to learn how to crawl, thenwalk …
With Reece, I would pump and then go to the gym. BeforeBrody (my second daughter) was born, I developed my 15 minute workoutvideos (see www.gotogabby.com)for women like me, who didn't have a lot of time to spare. You don'tneed more than a ball, dumbells and a step. While I was pregnant withBrody, I also developed a series of 3 workout videos, with 3 workoutseach for total of 9 workouts–one for every month you are pregnant, andthese are real time pregnancy videos.
So you're helping new moms shift they way they think about working out.
Yes. If you can go to the gym, great, but if you can't, believeme, you can still get it done. Ultimately, moving your own body isharder than anything else: a machine only works certain parts of yourbody at a time, which can be easier.
You seem like a very grounded person, but did you have anyworries before you had kids? Like, how am I going to make all of thiswork?
Oh, sure, and I think I had more anxiety before my second,thinking about traveling, and trying to work, and trying to have arelationship, and having one more kid, and I remember clearly thinking,how am I going to make this work? I think at a point, it's a choice youmake, and I try really hard to look around me for positive examples, tofollow those.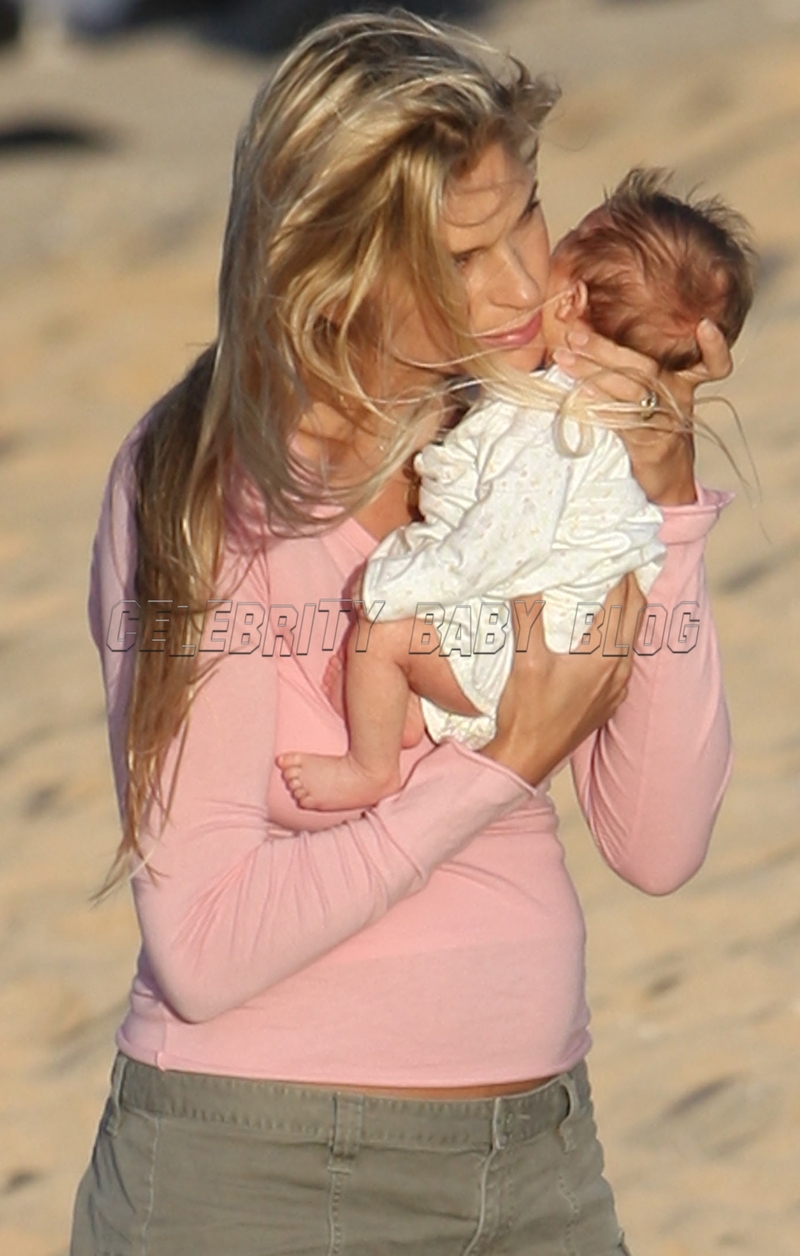 Has nursing your second child been any different than nursing your first?
Not that much, but I'll tell you, I've made sure both of my kidslearned how to nurse on the go, as in, when that blanket goes over yourlittle head, you'd better get to work! A lot of time, I don't have timeto sit still, or put my feet up, so I'll even nurse while walking, ordoing other things.
A lot of times I'll be nursing and no one will haveany idea, any clue, that that is what is going on. But this is one ofthose things that you can only do if you take care of yourself first,if you are strong. (6)
Any products you particularly used or liked?
When my activity level is high, I like baby carriers that reallystrap the baby in, but I like the slings too. I used the MedelaPump in Style, which is great. Ialso use coconut oil on their skin.
We're assuming your kids are really healthy. Do they get sick often?
No, very little, Reece goes to Montessori school now, sosometimes she gets the sniffles from being around other kids, but sofar, knock wood, they've been really healthy.
So not a lot of ear infections or tubes in the ear or anything?
No, no, not at all. And Reece is in the water all the time.
Do you have any other words of wisdom for new moms considering or currently breastfeeding?
I look at breastfeeding the same way I look at fitness: it'sabout taking care of yourself. Breastfeeding is a gift you give to yourchild and your child gives to you. I am fortunate, by living in Hawaii,to be living in a culture that is more in tune with nature.
We live inworld that makes it difficult to breastfeed. We live in a world wherewe are getting further and further away from out natures and from whatmakes perfect sense for us. I think breastfeeding, in a way, is one ofthose things.
It's sort of like, our bodies are designed to keepmoving, and when we don't move it, we're not going to feel great.Breastfeeding is similar, in that people don't realize how good it isgoing to make them feel too. Yeah, sometimes you're not in the mood,and you're tired, and of course you're going to feel those things, andI have too. But it still feels right. Even when you're irritable andyou're in a rush, it still feels right.
That was beautifully put. Thank you so much.
---
BfB Comments:
(1) Being aware of the influences on you as a new mom can be so critical to your breastfeeding success. Coming from a family where you are the first to attempt breastfeeding, or not having seen a baby breastfeeding, are factors which can make it more difficult to succeed. If this describes you, part of your homework before the baby is born, is to start getting acclimated to breastfeeding by putting yourself in places where there are nursing babies: attend a breastfeeding support group, ask a friend if you can observe her feeding her baby. The other part of the preparation is to get in touch with your own feelings about nursing so that you can work through any fears or squeamishness before your baby is born.
(2) Being inspired and motivated to breastfeed is similar to getting motivated to work out. Find out while you are still pregnant which of breastfeeding's many attributes excite you and are going to keep you going when you are still in the challenging stage of the first few weeks. For ideas, see www.bestforbabes.com/your-mom-made-wonder-food. For som
e women it's huge health benefits like a lowered risk of breast cancer for mom and baby (yes, breastfeeding lower's a baby girl's risk of breast cancer by 25%!). For others it's the prospect of fewer dishes, less schlepping to doctor's visits, and poop that doesn't stink so much!
(3) The road to breastfeeding success is paved with preparation and support because the hardest time to learn about breastfeeding for the first time is after your baby is born when you are exhausted and vulnerable. So the "honey line" to which Gabrielle turned for inspiration and preparation is a beautiful and smart way to help her gain confidence and information. Ask well-meaning, but ill-informed relatives and friends to refrain from negative comments. And, if you think they are open to it, you can try giving them a bit of evidence-based literature to read. See www.bestforbabes.com/your-mom-made-wonder-food. Attending a really good prenatal breastfeeding class or breastfeeding support group (such as offered by www.powerofbirth.com) has also been proven to be effective in helping moms get off to a good start and stick with it. The more knowledge and support you have, the more you will be able to get your best game on and hit the ground running!
(4) As Gabrielle illustrated, first time moms tend to be especially anxious before their mature milk comes in (usually between 2 and 5 days) and they need to turn to someone knowledgeable for support (a breastfeeding specialist or peer counselor). Yes, breastfeeding is instinctive – newborns can even crawl to the breast and latch on all by themselves! However, new moms need to understand that nursing is a skill that both mom and baby need to master, and that it takes practice and patience. This is the time period we call the "learning curve" and it usually lasts from a few days to about 4 – 6 weeks. 95% of breastfeeding problems could be avoided if every mom simply had good breastfeeding help to check in with during the early days. To find a lactation consultant in your area, log on to www.ilca.org.

(5) Studies show that the support or lack of support from a partner/spouse is the number one influence over a woman's decision to initiate and continue breastfeeding. So having the "buy in" of your "other half" about the importance of breastfeeding, and having them know what to expect and how to support you, is crucial to your success. You want to be on the same page and you want their loving support from the beginning, especially during the learning curve of the first 4-6 weeks.
(6) A great nursing cover-up can up your confidence while out and about—one of our favorites is the Lilabean cover-up which is well-designed and glamorous too! See www.lilabean.net. Plus, a percentage of the proceeds are being donated to support breastfeeding moms!
---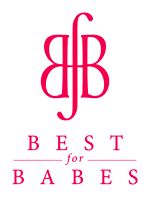 Best for Babes™, is the first nonprofit dedicated to changing thepublic perception of breastfeeding and to revealing and removing thebreastfeeding booby traps™ that keep women from succeeding despitetheir best intentions. Myths and misinformation prevail, and today'sgeneration has few breastfeeding role models. That is why Best for Babes™ is working with celebrities to raiseawareness of social and cultural obstacles to breastfeeding, and toprovide inspiration and smart info on how to overcome them.