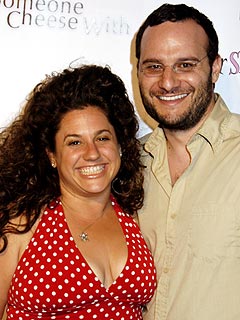 Update: Marissa has shared that the due date is actually July 15th, but she "knows he's going to come early."
Update April 2nd: Zev is due July 17th.
Update March 29th: The baby is a boy, and will be named Zev. In the latest issue of People, Marissa confirmed that the baby is biologically hers, using a fertilized egg transferred into the surrogate.
Originally posted March 19th: Tony award winner and current Dancing With the Stars contestant Marissa Jaret Winokur and her husband, King of the Hill writer Judah Miller, are expecting their first child.
Since a bout with cervical cancer seven years ago required removal of her uterus and part of her cervix, the 35-year-old Hairspray actress cannot carry the baby herself. However, her ovaries remain in working order, and Marissa happily reports that a surrogate is currently five months along with her and Judah's child.
Click below for more.
She shared,
[The year] 2008 is beginning to be the best year of my life. I don't care if I win or lose Dancing with the Starsbecause I know when the show is over I will have the best prize — ababy. After cancer I never thought I'd have a baby. This is truly thebest time of my life.

I have to remind myself that we're pregnant. [At the time I hadcancer,] I was like, 'Take the uterus — save me!" I didn't thinkthere'd be a biological chance for me to have a baby.
Marissa revealed that she speaks with the surrogate "five or six times a day" and that she's now a close family friend.
I couldn't be more a part of what's going on unless I was carrying the baby myself.
The surrogate confirmed,
Marissa has become my best friend and my sister.
Source: People
Thanks to CBB readers Emily, Mary Beth, Amanda, Susan and Sarah.