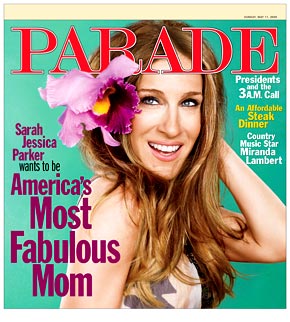 Sarah Jessica Parker appears on the cover of the latest issue of PARADE magazine in promotion of Sex & the City, which will be out on May 30th. The 43-year-old actress discussed her son James Wilkie, 5, her and husband Matthew Broderick's parenting styles, hand-me-downs, growing up poor, and different religions James is being exposed to.
Click below for the interview highlights.
On James Wilkie's wardrobe (yes, she still barely buys anything new):
He only wears hand-me-downs because I've got all these oldernephews. That's the God's honest truth. Plus, my mother saved all mybrothers' clothes. I am not kidding. I don't think I've ever bought himany clothes. Maybe a new winter coat. I do buy him shoes, becauseeverybody's feet are different.
On growing up near the poverty line:
I was really lucky. I think that if I had been raised a child ofprivilege, I wouldn't be the working person I am today. I have a greatappreciation for work. I think it's incumbent on my husband and me toreally stress and to show James Wilkie by example what it means to oweyour community something and that he is not entitled to the benefits ofour hard work.

That doesn't mean that I'm withholding or keeping fromhim the joys of childhood. I'm not Joan Crawford. But I also don't wanthim to think the world he lives in is the real world. It's not.
On who is the stricter parent — Sarah Jessica or Matthew?:
I am. Does it surprise anybody that I would be? It's not thatMatthew spoils him, but he just has a different way of parenting than Ido. I was never spoiled. Oh, dear no. I was the baby of the family onlyfor a wee time, and I was lucky to get any attention, let alone bespoiled.

A few years ago, I found all our baby books. My two olderbrothers' baby books were filled with pictures. Then we found mine, andit only had my name written in it. There was nothing else in there. Notone picture. So there you have it. I've been starved for attention eversince!
On caring for James Wilkie:
I'm his primary caregiver. I put him to bed every night. I get himdressed. I'm the one who gives him his toothbrush. I take him to schoolevery morning. He's very small, but his personality is 6 feet 4. I'mspending the whole summer with him out at our beach house.
On the wide-range of religion their son has been exposed to (Sarah Jessica and Matthew consider themselves cultural Jews):
Well, your worldview is one of a Jew. You feel persecuted. (laughsironically) And you certainly recognize persecution when it's happeningto others. You have a lot of empathy. It's bagels. It's whitefishsalad. But we also have a babysitter who is a devout, devout Catholicfrom Brazil, and she's had some influence on [James] as well. She saysprayers with him. I say prayers with him too every night.

Oh, heavens. He'll probably end up a Unitarian. I go to an Episcopalchurch on Easter to hear the music. I think that's rather glorious.Matthew's sister is an Episcopal priest. And his other sister is ashrink. So James Wilkie's got it covered on that side of the family!
Source: PARADE; Cover image courtesy PARADE.
See exclusive web photos of Sarah Jessica here.