New York Times article discusses high cost of celebrity baby exclusive photos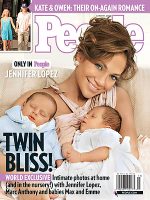 A new article in the New York Times gives a good overview of just how magazines turn a profit — if they manage to turn a profit, at all — after paying millions of dollars to secure the exclusive rights to a celebrity baby's first photoshoot.
People Managing Editor Larry Hackett tells the NYT that although he doesn't "enjoy" shelling out exorbitant sums of cash, like the rumored $5 million his magazine paid for the first photos of Jennifer Lopez and Marc Anthony's twins Max and Emme, 10 weeks, it's often necessary in order to maintain People's position in the marketplace.
Last year, we lost a couple of weddings because OK! magazine was willing to spend more money than we thought made sense. [If that continues], they're going to get traction, and I don't want any competitor to get traction where I can stop it.
Click 'continue reading' for more from the interview.
While an extremely hot issue and cover can sell an extra 300,000 to 500,000 copies, that only translates into $1 million in domestic earnings — or less. But splashing the exclusive photos on the magazine's website can generate significant online interest, meaning a magazine can command higher advertising rates, the article states. Also, while the magazine might take a big hit initially, that hit is lessened when the magazine sells the international rights to the photos in question.
But perhaps the biggest motivator of all for the magazines is the notion that the best offense is a good defense. By securing the exclusive rights, you prevent your competitors from doing the same. Notes Paul Caine, Publisher of People,
The consumer's expectation is if the photos are going to be available, I'm going to see them in People. If we don't get them, we miss that brand promise, we lose the halo that goes with that.
Though not quoted in the article, CBB publisher Danielle adds, "Due to a limited budget, we are not able to purchase exclusives, especially the ones that run in the millions. There are exclusives that go for a lot less (such as a first shot of a new celebrity baby that went for $1,000), but even so, we are not dependent on them to keep our status. We rely on the fact that our readership knows that we provide consistently good coverage about all celebrity babies."
Source: The New York Times
Do you subscribe to a particular magazine because it secures more celebrity baby exclusives than other magazines?