Jessica Alba and Cash Warren in People's Most Beautiful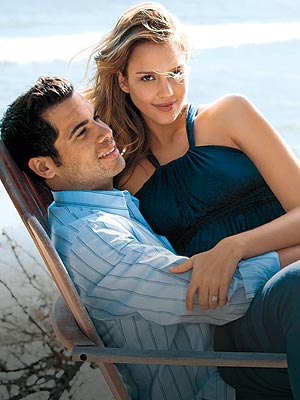 Expecting their first child — said to be a girl! — later this month, actress Jessica Alba, 27, and her fiancé Cash Warren, 29, recently sat down with People to discuss their upcoming arrival and related topics.
On features they'd like their baby to have:
C: Her eyes. She has really big, pretty, almond-shaped eyes.

J: Cash's dimples. They looked so cute when he was a baby.
Packed in the hospital bag is…
J: A good shea butter lotion — I've been using Mama Mio brand and it smells yummy — a ChapStick and some concealer. I use this Revlon product, Beyond Natural. I have a feeling I'm going to look pretty rundown, and Cash will want pictures.

C: Socks, sweatpants, toothbrush.

J: You like to brush your teeth a lot.

C: A lot!
Click below for more from the interview.
On how pregnancy makes you feel:
J:It's the most beautiful thing that can happen to you. Everything in myface is puffed up. I have the face of a teenager! I feel like I'm 16again.
Cash's pregnancy weight:
C: More than her! I play in an adult-league basketball game, and I went from an agile point guard to a sumo wrestler out there.
On having a pregnancy glow going:
C: Um … no.

J: Yes, you're always smiling.

C: But I don't know if it's as much of a pregnancy glow as kind of a barbeque-grease glow. I've gained probably about 10 lbs.

J: My butt getting bigger is so not important when there's ahuman being rolling around in my tummy that's half of me and half ofCash. Weight is not the most important thing in the world.
Source: People, May 12th issue.
Photo by Lance Staedler.