Gov. Sarah Palin discusses son Trig's Down syndrome diagnosis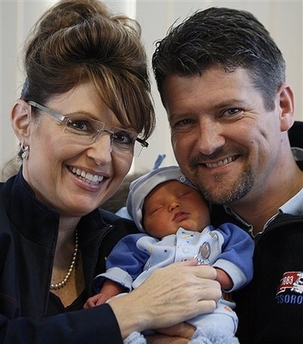 "You need to come to the office so we can talk about it." With those words, Alaska governor Sarah Palin knew that her fifth child would be somehow different from her previous four. Steeling herself, the 44-year-old asked to be told over the phone that day in December, when she was four months along. The diagnosis? Down syndrome.
I've never had problems with my other pregnancies, so I was shocked. It took a while to open up the book that the doctor gave me about children with Down syndrome, and a while to log on to the website and start reading facts about the situation.

[My husband Todd said,] we shouldn't be asking 'Why us?' We should be saying 'Well, why not us?' We've both been very vocal about being pro life. We understand that every innocent life has wonderful potential. I'm looking at him right now, and I see perfection. Yeah, he has an extra chromosome. I keep thinking, in our world, what is normal and what is perfect?
Sarah and Todd Palin welcomed son Trig Paxson Van on April 18th. He is now two weeks old and joins siblings Track, 18, Bristol, 17, Willow, 13, and Piper,7.
Source: Yahoo, Photo by Al Grillo for the AP.
Thanks to CBB reader Kelly.