Usher on paid baby photographs and the court of public opinion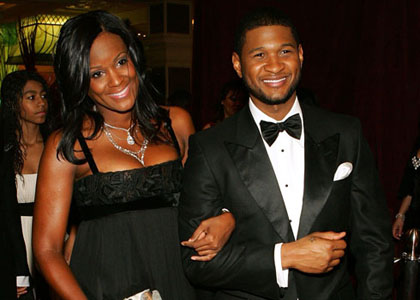 One of the few celebrities who turned down offers for a paid photoshoot of his newborn, Usher will officially introduce his 5-month old son Usher V — for free! — on the June cover of Essence magazine. The R&B star, 29, shared with Page Six,
In no way would I ever pimp out my child for money. I am livid that people talk about my child.
Usher also shot back at negative commentary from the media and fan community about his marriage to wife Tameka Foster Raymond, which had been rumored to put a strain on his personal and business relationships.
What makes you a man more thanbeing a father to your child? I recognize I gave anonymity away when Ibecame an artist, but to have people try to paint a horrible picture ofwhat's so beautiful — it's obvious someone is trying to stop somethingso beautiful.

I stand by [Tameka] as a man loving my wife and being there for my child … Opinions are like assholes. Everybody's got one. What I willsay is, this is my wife and I would hope that [people] would respect mywife and my marriage and who I have chosen to spend my life with.
Source: Page Six