Myleene Klass admits to finding motherhood hard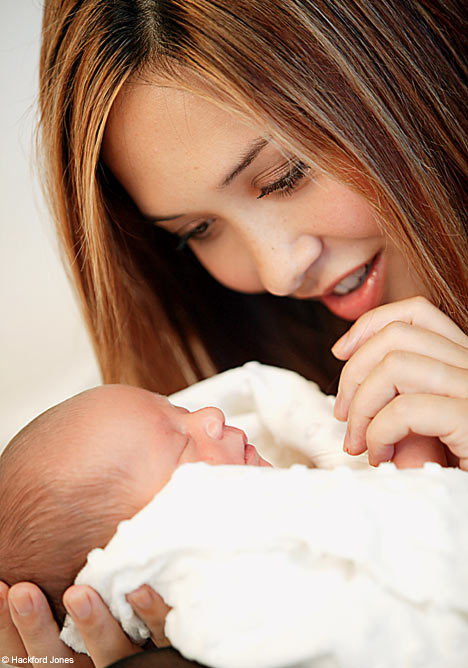 Myleene Klass recently spoke to the Daily Mail newspaper about how difficult she sometimes finds motherhood. Speaking with refreshing honesty, the pianist and UK host said,
I am tired, tired all the time. Sometimes I feel like crying because I am so tired. People say I make it look easy, but I don't have any of the answers, I'm still trying to figure things out. Things haven't worked out the way I thought they would and just when I think I'm getting there, something else comes along. Just when I had got sterilizing bottles down to a T, I had to start making purées. Christ — I can't even cook for myself! It's hard — harder than work.

Some nights you have changed the baby, fed the baby and tried to put her to sleep, but she is still crying and you feel like the worst mother in the world. I might look like I'm smiling, but that's my job.
The 30-year-old also revealed that a few weeks after the arrival of Ava Bailey, who was born last August 16th, her relationship with fiancé Graham Quinn became quite strained.
I genuinely wanted to kill him. I was knackered from looking after the baby and then he would come home and say something worthy of murder like: 'Jeez, I'm so tired, I haven't eaten all day.' I wasn't in a good place and I even told one of my friends that I was going to leave Gray.

He couldn't understand why I wasn't his old Leenie — he thought I should be back in my old clothes, but I could barely get out of my pajamas. Gray is a great dad and he is the same person he always was, but somebody took my body and shook it up and I have changed.

It is hard on a relationship. We will never be back to normal; it's a new place we have found. I just want him to appreciate what my day is like. I don't need the sympathy or adulation, I just want some understanding.

When I get home, my day is not over. I need to prepare for the next day, I need to sterilize the bottles and I might even get around to making Gray some dinner. I know it is the same for every working mother — but it seems like nobody really talks about it, what a challenge it can be for a couple.
Despite this, Myleene realizes how lucky she is. Click below for more.
Thankfully everything is fine now, and the pair are currently focusing on 8-month old Ava's christening.
Iknow I can't change Gray and I don't want to change him. Ourrelationship has changed a lot, but now that it has been eight monthsthings are getting better. We love each other and we are a family.

Gray and Ava came with me when I did an M&S shoot inPortugal a few weeks ago and there was nothing nicer than seeing Graytaking his daughter for her first swim.
Despite speaking out about how hard it is, the mum-of-one doesn't want people to think "I don't appreciate my life — or that I am moaning," she adds,
Iknow that I am lucky. Sometimes I walk around my new house and I can'tbelieve it's mine. And when Ava wakes me up in the morning by grabbingmy nose I know I have never been happier.

All I am saying is that while being a mother is the most fulfilling thing I have ever done, it hasn't been easy.
Source: The Daily Mail