A Day in the Life of CBB: What Sarah does all day (and evening!)
Sarah is our former news editor/current senior contributor and the site's Jane-of-all-trades. She's been writing for the Celebrity Baby Blog since summer 2004, and full-time since 2006.
In trying to think of the best way to describe my work day (and night!) at CBB, the most appropriate word seems to be 'constant.' Although a lot of what I (and Angela, my virtual sidekick!) do is repetitive, it needs to be that way so that we as a staff stay on top of things and are consistently able to bring you fresh and updated content.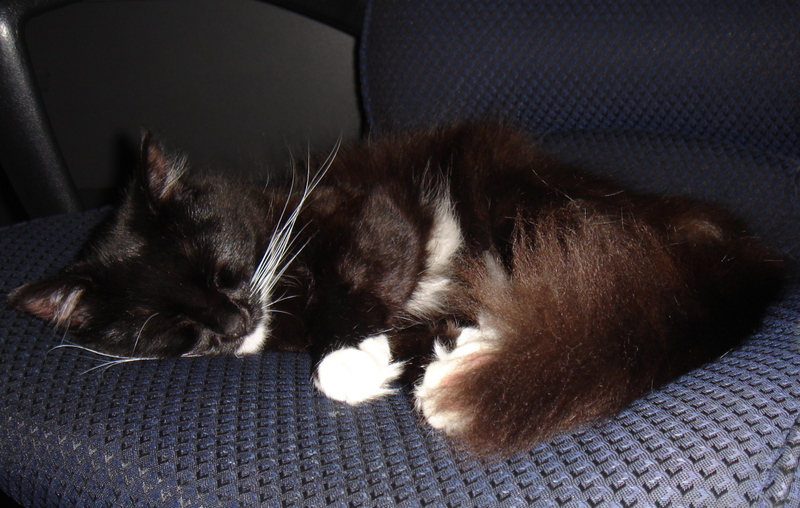 If you log on to the site multiple times a day, we want you to always have something new to read and look at, whether it be a breaking news story on the latest pregnancy announcement, paparazzi images, a feature on gear or fashion, an exclusive interview, a baby's first photoshoot, and more. To do that, we constantly monitor the site — Angela and I split duties on this, covering for the other if we have appointments; however, a usual day for me runs 8-10 hours, and has sometimes even hit the 13 hour mark!
Typically, I roll out of bed at 7:30 am, get my cup of coffee, grab my MacBook, and promptly glue my butt to the couch. I do have an office space — it's quite nice, in fact — but I'm just not inclined to use it. My kitten, Ophelia, gets more mileage out of my office chair than I do (that's her snoozing in it above). Instead, I'm a big fan of the couch, the porch in nice weather, and my local bagel shop that provides wireless internet with breakfast.
Click below for an explanation of how we do photos, comments, a view of the backend of the site, and the rest of Sarah's day.
First, I log on to AIM. As Danielle has said, this is our primary method of communication. Usually Shannon is on and getting ready to go to bed over in Sydney. We check in and chat for a few minutes. Occasionally Danielle will be online at this time as well, in addition to Angela or Missy. If not, they're usually online by 10 am at the latest, often earlier, and we'll also check in, either by AIM or over email.
I read through the tips box, which is basic web-based email that the entire staff has access to, and the top entertainment sites for any breaking news — a big birth or pregnancy announcement. If there's one of those, I get it up on the site ASAP. If not, I usually start the day by reading over the new posts that were made since I last logged in, and correcting any errors that I see.
I then spend about a half hour putting through comments that have come in during the night. In a 24 hour period, we receive between 200-300 comments, but it slows considerably between 11 pm and 6 am EST. In the morning, I'm typically putting through the thoughts and opinions of night owls and our UK, Aussie, and European readers. I read each one individually and often pull out a small batch of questionable ones I am unsure of to run past Danielle, who gives a yea or nay on each.
To give you an idea of what the backend of the site looks like from the staff's perspective, the screencap to the right is the main comments page. The page has three columns — comment, author, and post the comment is referring to. The comments with green check marks have been published to the site, the comments with orange exclamation points have not been published yet. If I cannot read the entire comment in the preview box, I will often click to open the comment on its own page, which the screencap on the above left illustrates. Here, I can read the entire comment, see the person's name, email address, URL, IP address, and more.
After the comments are completed, I check my personal email account. In it could be any number of things — questions from the staff, a fashion ID spotted in a photo post from Emmy at Isabella Oliver or Carla at A Pea in The Pod, new photos of Bailey Baio that Renee has sent over, a cover spread from Drew at Pregnancy, an assignment from Danielle, a note from my daytrader brother Nate (he runs the InvestorsLive blog), or discussions with a new photo agency.
Next, I log into each of our 13 photo agency accounts, and check for new images we'd like to purchase and show on the site. I draft a post in our host Typepad for each, then start downloading what I need from each agency. I log a description of the individual images in our photo document, which tracks our purchases, as I go. Occasionally Angela and I consult on which images in a set would be best to buy — especially when there's too many cute ones to choose from! When they're all downloaded, I convert the file names, load them into iPhoto, and start cropping them to CBB specifications. This means eliminating any 'blank space' and focusing on centering the subject so it'll look best live on the site.
I then tag the purchased images with a clear watermark of the site name in our iWatermark program, pictured right. After that, I research and write a caption for each post I've drafted, add the related images, source them, and put them live on the site.
I typically re-check comments between each post going live. I then post or set to publish anything our new contributors Anya and Carlie, who cannot publish their own posts yet, have drafted in Typeped.
After that, I re-check all the major news sites and the tips box for any stories that would be of use to CBB. If there are a lot we need to post, but some that are not time sensitive, I will sometimes assign them to other writers to complete when they have time. Otherwise, I draft a post and begin re-writing or formatting the story in my own words and to CBB's standards. Then I put through comments again, read over and edit any new posts by other authors, and log in to each of the photo agencies one more time to see if anything new has been added.
On busy days, all of the above can take until noon to complete; on slower days, I am finished with the initial stuff around 10:30 am. I then answer all new emails. When that's done, I usually take a 30 minute to hour break, showering and making breakfast or lunch, depending on the time. Working from home is wonderful, but it can get a bit claustrophobic at times! Therefore, a few days a week, I'll run to get takeout from Dos Amigos or The Green Bean, just to get out of the house! I also try to work outside or at least on the porch when the fickle New Hampshire weather cooperates.
The afternoon is usually spent doing more of the same: emailing with staff and sources, re-checking the photo agencies and entertainment sites as they update, chatting with Angela and Missy, and working on stories that aren't "hot" to be posted later.
I update the infanticipating list every afternoon. About three days a week, I update the Hot Posts and Past Features boxes at the top of the page — there you'll find all the top stories we think most readers are looking for — big pregnancy and birth announcements, introducing posts, and lengthy interviews. That's pictured at left. Once a week, I spend the afternoon prepping print magazine stories for publication on CBB.
Most evenings I don't work between 5:15-8 pm, depending on the night, to eat dinner and do things that don't involve a computer screen! Two evenings a week, I take an ashtanga yoga class with a friend. Other nights, I get wrapped up in the cheesy goodness that is Dancing With the Stars (I'm all about Kristi and Mark this year), or the home of "That's what she said," The Office. If I am home, I monitor comments but don't actively write anything during that time. After my yoga classes and TV shows, I am back online between 8-9 pm to check photo agencies and news sites again, to answer emails and post anything that needs to be posted. I then monitor comments off and on (about every half hour) while I do other things until about 11:30 pm.
I work seven days a week; anywhere from 2 to 10 hours,
depending on whether it's a weekday or weekend. During the week, it's typically 8-10 hours a day; on weekends I usually only post during the morning and simply monitor comments as I can throughout the day, if I'm around. Weekend evenings, I usually meet up with my friends and we'll go out to dinner, barhop, or see a movie. It's a welcome break from blogging and the hours it requires! Although my schedule is crazy, I really enjoy what I do and love seeing the site grow as it has over the past four years I've worked here.