Kate Hudson on People's "Most Beautiful" list; credits Ryder for lack of sleep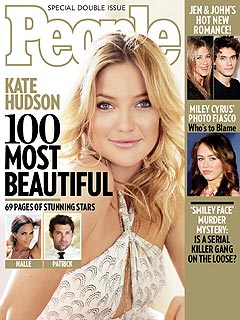 Actress Kate Hudson, 29, graces the cover of People's "100 Most Beautiful People" issue. The special issue discussed how her 4-year-old son Ryder Russell has an active lifestyle that plays a role in her lack of sleep at night. Ryder might have inherited some of that active personality from his mother. Kate explained:
I was a tomboy. I had three brothers. I was the girl with the dress on that always came back in the house filthy with scrapes and bruises. But I was always very girly. I had to be able to twirl so that my underwear showed.
Ryder's father is Chris Robinson of The Black Crowes.
Source: People