Gwyneth Paltrow discusses her children and going back to work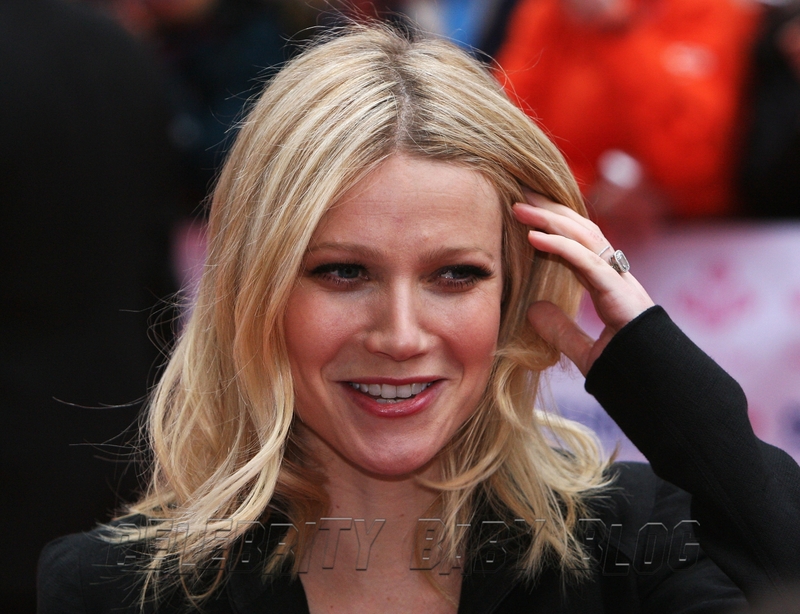 Currently in the middle of a media promo tour in support of her new film, Iron Man, Gwyneth Paltrow admitted that she's having trouble dealing with the 7-day, 6-night separation from her kids, who are home with dad, Coldplay's Chris Martin.
I keep bursting into tears because this is the longest I'll ever beaway from my kids. Now it's six nights, which is the longest by doublethat I've ever been away from them. So quite pathetically,I kept bursting into tears. It's so painful to even miss one day.

Youknow, they change so quickly and the idea of somebody else being therewhen they do their first this or say their first that is just like, itmakes me die.
Discussing her children — Apple Blythe Alison, who turns 4 in two weeks, and Moses, 2 — Gwyneth chatted about her and Chris' choice of name for their daughter, as well as the kid's personalities, expounding a bit on her comments to David Letterman.
[The name Apple] just emerged — we thought it was unique, but we didn't expect the media onslaught. I call her Appley-Dappley.

Moses is absolutely gorgeous, and he makes me go weak at the knees.Apple changes her outfits about seven times a day. She loves clothesand walks around the house in my high heels.
Click below for Gwyneth's thoughts on going back to work and why she and Chris do not appear in public together or speak about each other in the press.

Gwyneth, who previously revealed that she suffered mild postpartum depression after the birth of Moses in 2006, shared that the decision to return to work was a difficult one for her — she wasn't even sure if Hollywood would accept her back after taking quite the extended maternity leave.
There were some dayswhere I thought, after I had my son and I couldn't lose the weight andI was in sweat pants and I was depressed and I was thinking, you know,will I ever be able to go back? Will they take me back?

Basically, what happened was that the fire started to come back when Mosey was about 6 months old. I thought, 'I can't go back to work now because I have to give him at least a year.' When I felt the urge togo back I thought, 'How am I going to do this?' Then you feel so guiltythat you have the impetus to work again.
Although Apple and Moses have no idea what their 35-year-old mom does for a living — "They've never seen me on-screen or anything. They have no idea." — Gwyneth says that their well-being was of utmost importance to her when choosing her 'comeback' project, which ultimately was Iron Man.
[I wanted] something fun, not too big of a part, but with reallyinteresting people. That was exactly what this was. I knew that if Iwent back to work with something very, verydifficult, where I was in every scene, it would be way too much of ashock. My children would be like 'Where the hell did you go?'

Itjust worked out so well. I could take Apple to nursery and pick her upmost of the days. She was going to the nursery school where I had gonewhen I was little, and it was just really a nice time where we were allkind of together.

When I'm home, I get up very early and spend the morning with my kids.My daughter goes to school in the afternoon and my son naps, so I'llexercise and do work stuff. I'm just really home. I'm with them anddoing the school run. Cooking a lot. I make everything except meat. Idon't eat meat. I like thinking about what's in season and what I wantto make today.
Family is a top priority for the Oscar-winning actress. Gwyneth has been married to Chris, 31, for four years now, and shared that they find gossip about the state of their union "hilarious," reiterating that they choose to stay off the radar for a reason.
If you never walk down the streettogether it can stay private. We really value our family life. [Themedia] feels very dark now, they want you to fall, throw up or do crack.
Iron Man opens in theaters on Friday, May 2nd.
Source: USA Today; AP; Boston Herald; The Press Association; The Telegraph
Photo by Dan Kitwood for Getty Images.