Basic Car Seat Safety: a refresher cource from CBB Reader Andrea
The feedback we received from Monday's rear-facing car seat "Op-Ed" piece was so great I asked Andrea if we could republish something she had written on her blog about general car seat safety info. I hope you find it as informative as I did.
---
by CBB Reader Andrea, Certified Child Passenger Safety Technician (CPST)
As those of you who either know me in person or read my blog know, I am passionate about car seat safety, and I am a certified Child Passenger Safety Technician. I have prepared this car seat primer, which I update periodically, to provide basic information and clear up some misconceptions.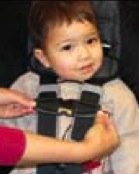 • The child seat's harness should be snug enough that you can't pinch any slack at the top of the child's shoulders. For rear-facing children, the harness should be threaded through the highest slots that are below the child's shoulders. For front-facing children, the harness should be threaded through the lowest slots that are above the child's shoulders.
• It's a chest clip, not a belly clip. The harness retainer clip should be even with the child's armpits.
Click Continue Reading for more guidelines.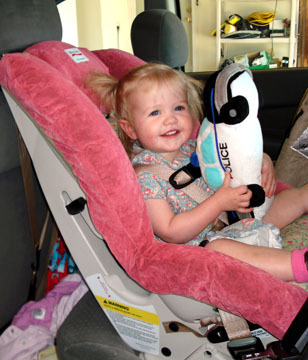 • The "front facing at 20 lbs AND 1 year" guideline is truly just the bare minimum. The AAP(American Academy of Pediatrics) actually says it's best to leave achild rear-facing until the maximum weight allowable by the seat.For most current seats, that's at least 33 lbs. My daughter will berear-facing until she hits 33 lbs or until she outgrows rear-facing byheight. Most children can happily rear-face until age 2 or longer.
• There are seats available that will keep kids harnessed beyond the former standard of about 40 lbs. My son is in a Britax Regent and a Graco Nautilus and will probably fit in the harnesses until he's about 8. My daughter is in a girly version of the Britax Marathon(pictured left), which will probably last her until 5 or 6, and thenshe'll inherit the Regent and Nautilus for a couple of years. Thefairly new Graco Nautilus harnesses to 65 lbs and then turns into a good booster. Other higher-weight harnessed seats include the Sunshine Kids Radian and the Safety 1st Apex(but you MUST have high headrests to use this seat, as the headrest isnot reinforced). For the child who's not likely to reach 40 lbs until 5or 6, seats like the Evenflo Chase or the Evenflo Generations have nice high harness slots and then turn into decent boosters.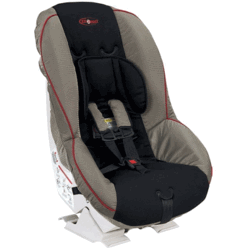 • Car seats expire.Yes, it's true that car seats expire. Most expire after 6 years. Itmakes sense when you think about all the use these things get, theextreme hot/cold temps, etc. Just think what a plastic toy would looklike if you after 6 years of that much use!
• The 3-in-1 seats are NOT "the last seat you'll ever need" eventhough they may be marketed that way. These seats are great forrear-facing because they have a 35 lb limit, but most kids outgrow theharness by height around age 3 – far too early to use the seat inbooster mode. And the seat doesn't make a very good booster, becausethe closed belt loops don't allow the car's belt to retract easily andthe shape of the seat holds the belt too far from the child, oftenpositioning it on their belly instead of over their thighs, which isthe correct position. I actually had the Alpha Omegafor my daughter (I was seduced by a great price) and had such a hardtime with it (could never get a tight install in any spot in my car)that we replaced it with a Fisher Price Safe Voyage Deluxe (pictured right).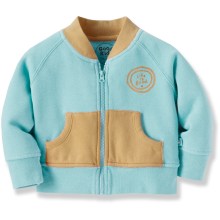 • Puffy coats are a no-no because in an accident, they cancompress, causing the child to move more or potentially even slip out.A good rule of thumb – if the harness fits snugly without the coat andyou have to loosen it to buckle up with the coat, it's too puffy. Wemake my son take his coat off, buckle him in, and then he puts his coaton backwards. He thinks it's hilarious and it keeps him just as warm.Another good trick is to put the child in the car seat with the coatunzipped, pull the sides of the coat out to the sides of the car seat,and then buckle up. We dress my daughter in a polar fleece jacket, buckle her in, and then cover her with a thick fleece blanket for warmth.
• The 30 lbs. minimum weight listed on most belt-positioning boosterseats allows kids who are WAY too young to sit properly in a booster todo so. Kids should be in a harnessed seat until they are least 4years and 40 lbs., longer if possible. And then they should stay in abooster until they're between 8 and 12 years old. See below for furtherdetails on when you can safely move your child out of a booster seat.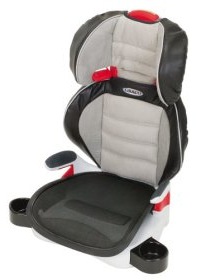 When is my child old enough/big enough to use just the vehicle seat belt?There is no magic age, height, or weight. NHTSA (National HighwayTraffic Safety Administration) has developed a set of guidelines tohelp parents and caretakers determine when a child can safely use thevehicle seat belt. If your child meets ALL of these guidelines, then heor she can safely use the vehicle seat belt. If one or more of theseguidelines is not met, your child should continue to use a belt-positioning booster (such as the Britax Monarch, Sunshine Kids Monterey, Graco TurboBooster or AirBooster, pictured right) or a harnessed seat.
Does the child sit all the way back against the auto seat?
Do the child's knees bend comfortably at the edge of the auto seat?
Does the shoulder portion of the seat belt cross the shoulder between the neck and arm?
Is the lap portion of the seat belt as low as possible, touching the thighs?
Will the child stay seated like this for the whole trip?
Check out Andrea's blog, Book Mama.
If you have any car seat safety questions, please post them and Andrea will try to answer them!
---
Check out our reviews of the car seats and boosters that Andrea mentioned:
CBB Deals: