I Bought It: Readers tell us about their CBB-inspired purchases: Focus on pediped™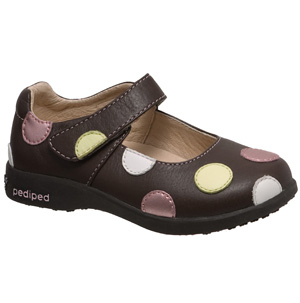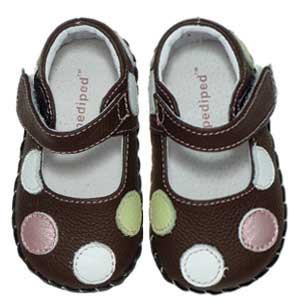 We know that CBB Readers love to shop via the site so we asked everyone to tell us what they've bought based on what they've seen on the site- photos, reviews, ads, giveaways, etc. There were quite a few readers who told us they had purchased pediped shoes so I decided to dedicate a special edition of I Bought It! to these great soft soled infant shoes and their newest line of Flex toddler shoes.
Anya has been wearing her pediped shoes since she was an infant and continues to wear the Flex line. The designs are really stylish and the shoes are so comfortable. She still even wears the Original line since she doesn't walk that much on pavement. (Check out our reviews here, here, here, and here.)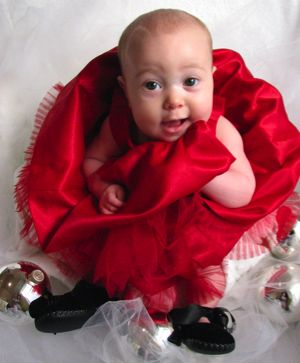 CBB Reader Francine has made MANY purchases but had this to say about her daughter Penelope Isla's pediped shoes:
We just LOVE pediped shoes for our daughter Penelope. Our first pediped experience occurred when I went looking for shoes that would match with Penelope's Christmas dresses. I found the perfect black velvet shoe with a black satin bow, in Faith in black velvet [not available right now]. We bought it in size 6-12 months as Penelope would be 6 months at Christmas. The shoe was enormous on her little foot, but it never fell off and it didn't look too big either. Penelope still wears these shoes on a weekly basis as they match any outfit, and as they are still on the big side, I have the hope that they will fit her in the fall.
Our second pediped purchase was made with Christmas money, as I had to have the girliest, pinkest, most adorable little shoe on the market. The Anastasia (pink) gets compliments every time Penelope wears them. They are dressy enough to wear with a fancy outfit, but due to the pebbled leather, casual enough to wear every day. I am in love with the ballerina ribbon lacing that can be tightened or loosened for a better fit. Penelope loves the ribbon on both of her shoes, as she is always trying to eat them, even when they are on her feet.
Penelope is already 10 months old and love to walk, with our assistance, and we find that pediped always stays on her feet and never get in the way by being too heavy or chunky. For the fall I have my eye on Samantha (pink/brown) or Madeline (pink/choc brown) or Abigail (pink), it's a tough choice. For her next Christmas pictures, Penelope will likely be wearing the gorgeous and original Victoria (black patent/silver).
I could probably go on for ever! I love to research products before buying and your site is a great resource so THANK You!
[In this photo, Penelope is wearing the Faith style in the Original line.]
Click below for more CBB readers and their pediped shoes.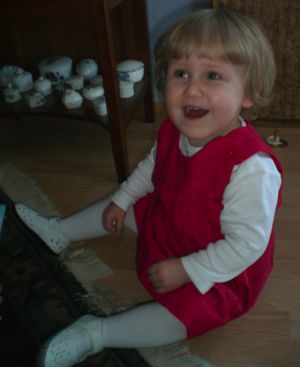 CBB Reader Bianca, who hails from Germany, wrote:
I've been a big fan of your site for about a year. I'm checking on any news in the world of celebrity babies at least twice a day. It's so exciting to hear about all the pregnant celebrities and new babies born from you first.
You now ask whether we have purchased products which we saw on your site first and I can raise my finger here. Some time back I fell in love instantly when I first saw the pediped shoes that many of the celebs' offspring are wearing. Last month I ordered two pairs from the pediped online shop and it only took about a week for them to be delivered. Last week, on Easter Sunday, our daughter Annika – now almost 21 months old – wore the model Katelyn in white for the first time and she loved them so much, she even wanted to take them to her bed. I will attach a picture taken on that day and you will see how happy she looks in her lovely outfit.
[In this photo, Annika is wearing the Katelyn style in white in the Original line.]
CBB Reader AJ wrote: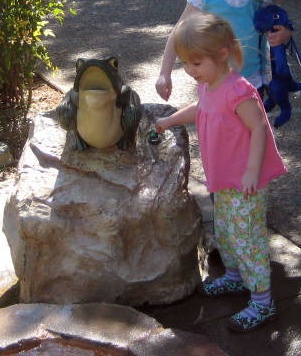 I had the privilege of finding pediped from your website and ordered the largest in infant sizes until the flexes could come out for my daughter. She loved them! It was the first time my daughter could walk comfortably in a shoe and was excited to put them out to go out and play! We recently waited patiently for her two pairs of flexes came in and again had the same results! I was happy and grateful to have found the info about those shoes on your site.
My daughter walks pigeon-toed also and has been able to walk straighter and run without tripping in these shoes! The shoes are reasonably priced for what they are made out of and how long they last. Being a Marine wife and mom of two girls we have a lot of shoes but I think I am going to stick with these when it comes to my almost 3 year old! Thank you for that! I found them very cost effective trying to budget when you have two little girls and love to buy shoes, shoe, and more shoes! We ordered the Leilanis and Giselles… I am currently waiting to see if they come up with more of the styles they have for the infant girls I liked!

I recently went shopping in the stride rite section of the MCx (Marine Corps Exchange) and I was glad for the selection but I wish I had a bigger one. I have again decided to purchase the sandals they have for the Flex line for my daughter to ensure her comfortability. We recently went on a vacation up to Williamsburg and she walked around all day in either the Leilanis or Giselles. She had no problem and enjoyed running around Colonial Williamsburg, Busch Gardens, and several stores and museums throughout the week.
I swear by these shoes for Moms who have a difficult time finding something to fit their tots/young children that are comfortable for them, and don't leave blisters on their heels. They are not $20 but they are worth the extra money because you are getting a good quality shoe. These are the first pair my daughter has also been able to help herself to put on. They have an easy strap across the middle and she just recently turned 3 (yesterday) and is already figuring out how to put them on and velcro the strap! They might not always be on the right feet but they are on and she is wanting to go!
[In these photos, AJ's daughter is wearing the Leilani style and the Giselle style in the Flex line.]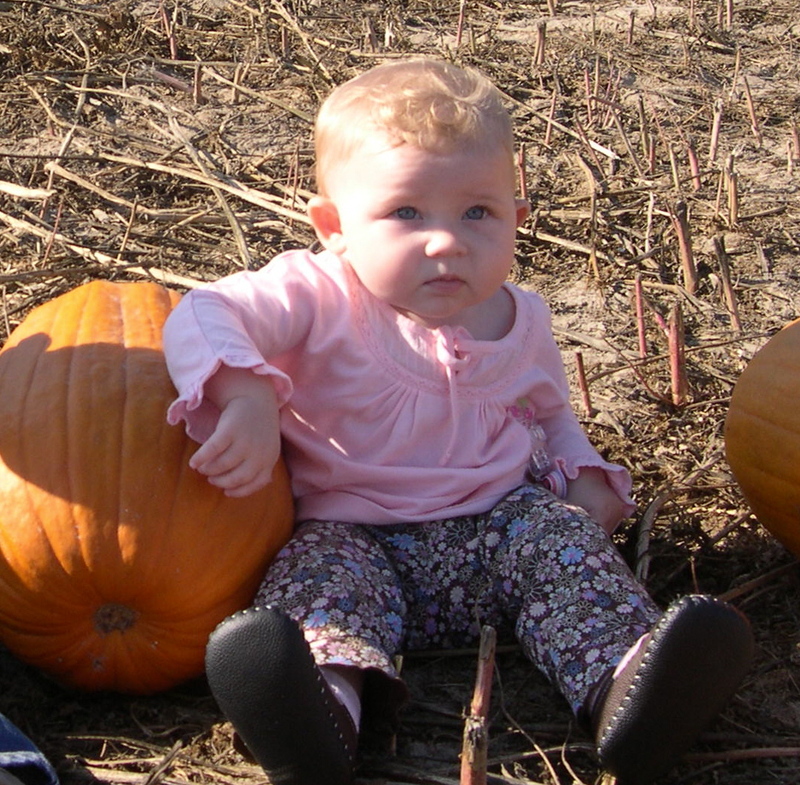 CBB Reader Wendy, who was featured in our last I Bought It! for her daughter's BabyLegs, is also a fan of pediped shoes.
I have purchased three pairs of pedipeds for my daughter, Gracie. I love the fact that they are lightweight, easy to put on (and for Gracie to take right back off) and so darn cute! It was important to me to find cute, stylish, durable and cleanable soft-soled shoes and pedipeds provides all of those things. She has the Madeline – Chocolate Brown/Pink, Katelyn – white, and Giselle – Chocolate Brown w/ Polka dots.
[In this photo, Gracie is wearing the Madeline style in the Original line.]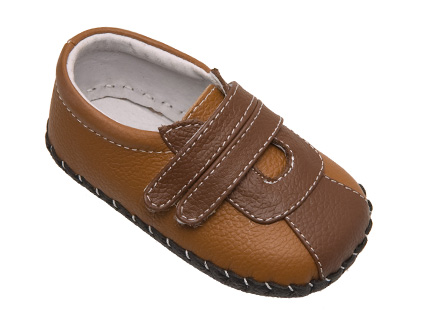 CBB Reader Rachel wrote:
I rely heavily on the reviews I read on CBB and have found nothing but favorable remarks about pedipeds… which made me go to their site and shop around. I had a very hard time deciding which pair to try first. I ended up buying the Liam in tan/brown for my son Andrew. I feel very good knowing that he has sturdy and reliable shoes to wear, plus they are so darn cute. I get endless compliments on how adorable my son looks in them and I excited for his feet to grow big enough so that I can try out the Flex soles. Keep up the good work and continue to introduce us to new products!

CBB Deal: Get free shipping when you use coupon code hapr08 at pediped.com (no expiration!)
Do your kids have pediped shoes?
---
Have you made purchases based on what you've seen or read on
CBB? Email danielleATcelebrity-babies.com [replace the AT with @] to tell us about it! Make sure you put "CBB Purchase" in the subject line.