MommyTrackd.com giving away a $500 gift card to BenefitCosmetics.com
Mommy Track'd is running agiveaway that is really too good to be true (but it is!) leading up toMother's Day with Benefit Cosmetics. You could win a $500 gift card forbenefitcosmetics.com. $500at Benefit could take care of an amazing Mother's Day gift for oneselfand your whole Mother's Day shopping list all in one fell swoop! Plusthey're offering runners-up prizes of five $50 gift cards. I don'tenter giveaways but I just entered this one.
Check it out at http://www.mommytrackd.com/Giveaway.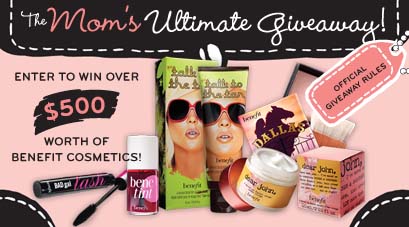 What would YOU buy with $500 at Benefit? That high beam and moon beam stuff looks good to me.